If you use a bicycle for transportation, you will, at least some of the time, be on the road with motor vehicles. When I first started commuting to work, I used SONAR to keep track of traffic behind me. Seriously.... I pretty quickly learned to tell when a car was in the lane behind me, and when it was changing lanes to go around me, just by the sound it made (the bump-bump-bump of cars hitting
Botts' Dots
lane markers were a tip-off). But this method had its problems: First of all, while I had some directional sense of where a car was based on the sound, it's much harder to tell how close the cars were. Then, if I wanted a visual confirmation, I had to turn my head all the way around to look, which meant I wasn't looking where I was going and I also tended to swerve off my line of travel. I came to the conclusion that if I kept up this way it was only a matter of time before I made a critical error.
I considered buying a mirror. There are several options available- handlebar-mounted, glasses-mounted, and helmet-mounted. Because I ride several different bikes I figured it would not be very economical to mount my mirror to the bike itself; I'd have to get a mirror for each one. After looking at the selection at my local bike shop, I decided to go with a helmet-mounted mirror. I got a
3rd Eye Pro Helmet Mirror
.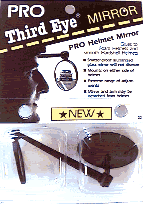 It is supposed to mount with double-stick tape to the inside or outside of the helmet. It was literally a five-minute installation. Unfortunately the adhesive didn't last, and I reattached it to my helmet with a nylon zip tie.
Here is what it looks like mounted to my helmet.
And here you can see the zip tie mounting. I had to drill holes through the foam.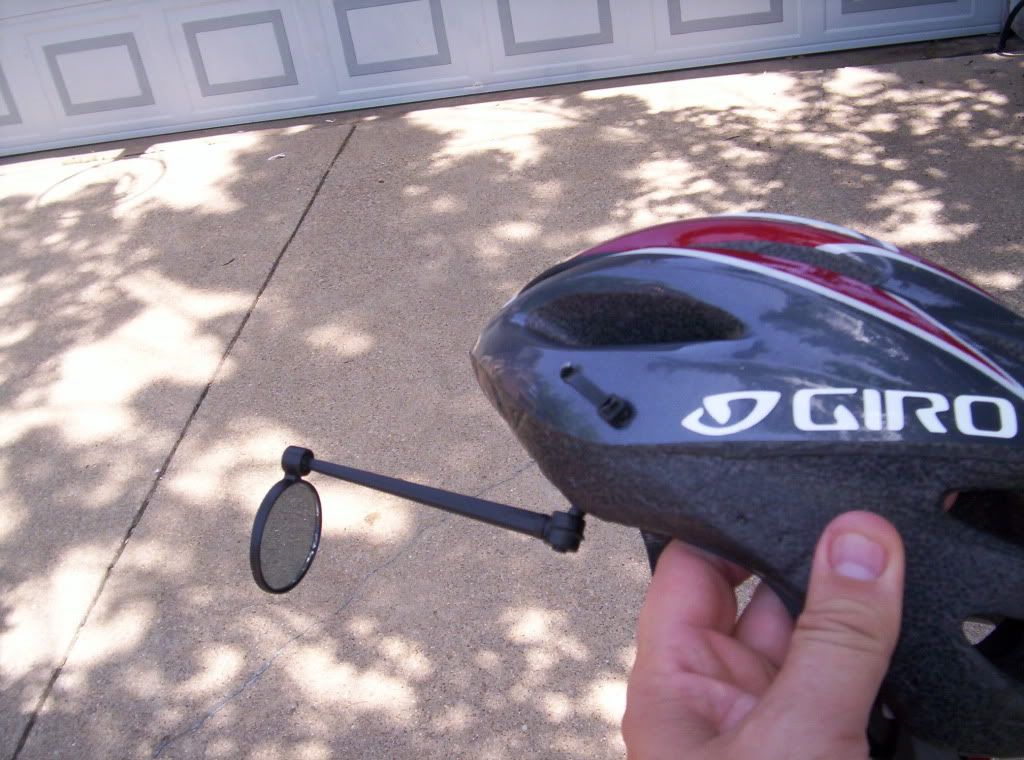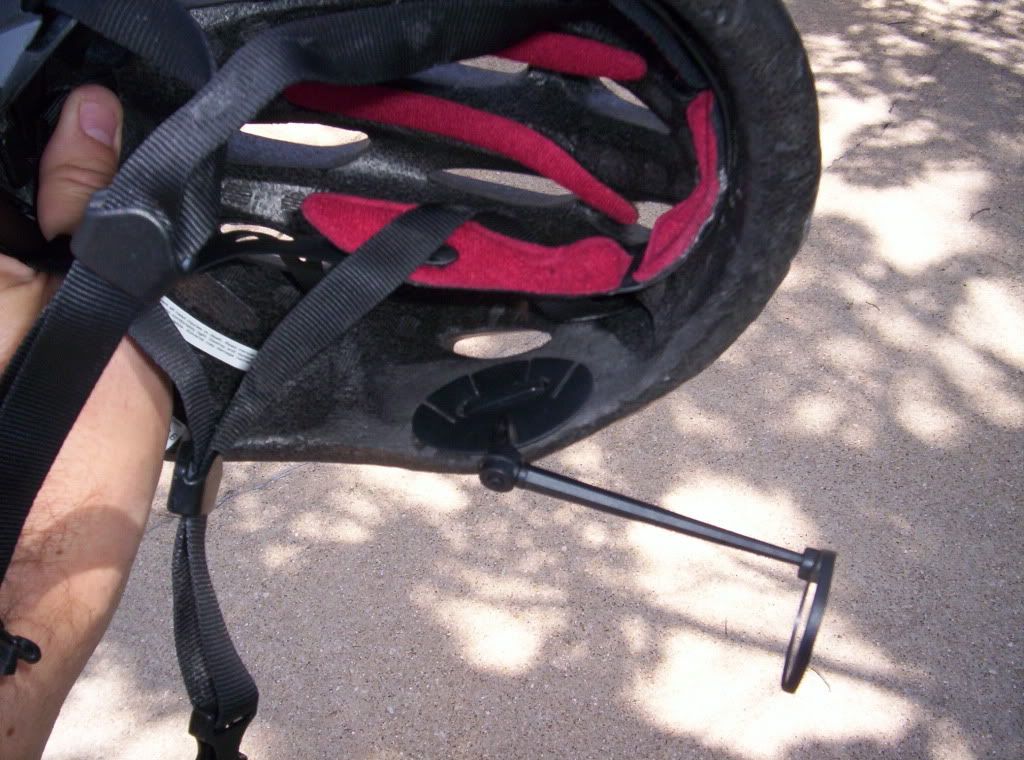 So how does it work? Actually, very well.
If you are familiar with using the rear-view mirror on a car, this is very similar, and in some ways better. Because the mirror moves with your head, you can aim the field of view of the mirror with small head movements. So when you first look in the mirror, if you don't see in the area you want, you can move your head a little and see what you want, and you can get a very wide field of view behind you by moving your head a little.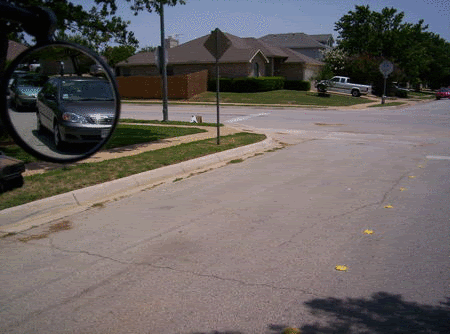 Are there any downsides? Yes. Be aware that the mirror itself creates a blindspot just off to your left. You very much need to remind yourself to move your head (and therefore the mirror) occasionally to be able to see in that area. It is a quick adjustment, but just be aware of this. Also, don't ever totally trust the mirror. When getting ready to change lanes for instance, a quick turn of the head is still necessary. Don't depend on the mirror to give you a total picture of what's behind and beside you.
Also, there is a little bit of an adjustment period. When I first got the mirror, I tended to look into it almost as much, or even more, than I was looking forward. Your brain has to get used to having instant access to the additional information and it takes a little while to "integrate" the extra information into the total traffic picture inside your head. After a while, though, this is all seamless.
Now that I'm getting used to the mirror, it seems to be an almost essential part of my safety equipment and it's hard to believe I could ever get by without it. If I could change anything at all, I may have bought the
glasses-mounted version of the mirror
so that bonding to the helmet would not be an issue.