I experienced a rite of passage this evening. I got home from work, and Mrs. Doohickie was watching
What Not To Wear
on TV. One of their big sponsors right now is
Long John Silver's
and they actually had some food that didn't look half bad, so I ran over and picked some up.
So the clerk rang me up and the amount seemed a little low. I checked the receipt...
...and for the first time in my life, someone gave me a senior discount!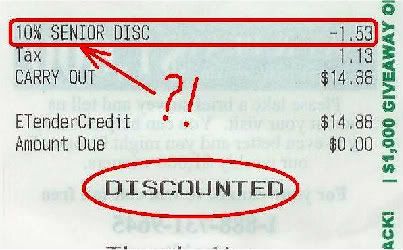 I'm not quite sure what to think about this. After
a little checking
, I found that Long John Silver's gives a senior discount to people over the age of 55. Ouch... do I look that old? Well, to some 20-year-old working at Long John's, I guess so!