Shortly after getting my Nishiki hybrid which is my normal commuter bike, I stupidly rode it up the edge of a sidewalk and bent the rim. Three different bike shops proclaimed the rim toast so I replaced it.... with the cheapest thing I could find at the time. My philosophy is to try the cheapest solution first. If it works, great; if not, then at least I know why I need to spend more money.
Well the new wheel did well.... for a while. Starting last fall I occasionally broke a spoke. Then Tuesday morning I was riding to work and while hammering up a hill, SNAP- whoosh, whoosh, whoosh- the familiar sound of a broken spoke. NUTS. I arranged for a ride home that afternoon. I decided that I had lived with the cheapie wheel long enough and ordered a new, better one from the bike shop.
In the meantime, I went back to the bike I commuted with for a while last year- the 1983 Raleigh Marathon I pulled out of a dumpster in December '08.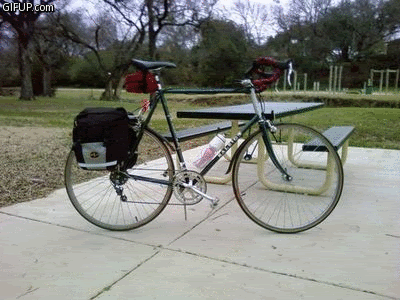 When my commute was only 7 miles and I didn't carry as much, the Dumpster Queen was fine. But my new commute is longer, involves more climbing, and perhaps most importantly, I carry more stuff. The bike is okay- it carried me and my stuff to the office and back home- but the ride just wasn't as fun. I think this bike is just not in its element when it's loaded down. It'll do until I can get my replacement wheel though. Here are a few pics from this week.