I did 14 miles of bicycle errands today, starting out at 16º F (my coldest temp on a bike) and a 15-20 mph headwind on the outbound leg (note the flags standing straight out from the poles):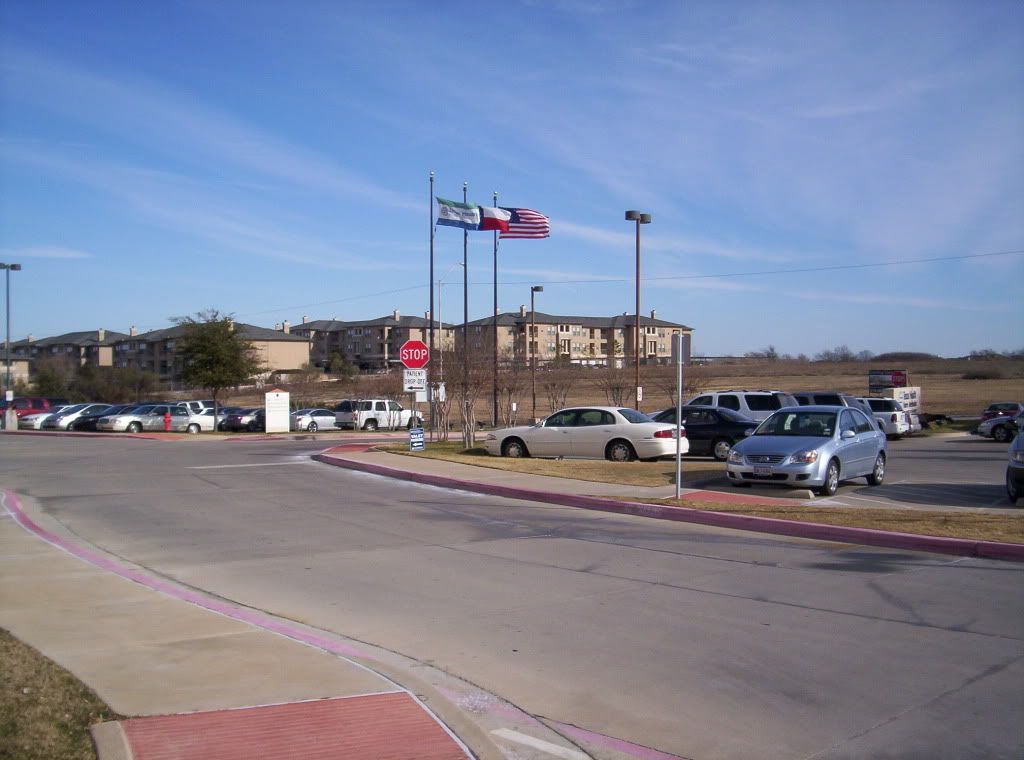 I rode my Schwinn Cutter single speed. The balaclava worked fine. I had to expose my nose when it got too foggy and cover it up when I got cold again.
What did I wear? From the bottom up, two pairs of socks, leather shoes, bike tights under jeans, a t-shirt, turtleneck, sweatshirt and nylon windbreaker, wool gloves with mitten caps (pretty cool actually- they are gloves that have exposed fingertips, but also have mitten caps you can fold over the fingers to keep the wind off), balaclava and helmet. I could have used a hat on top of the balaclava for the upwind portion of the run. Errands included going to the doctor's office to get new prescription scripts (we have to do mail-order under our new insurance), a trip to the eye doctor, and lunch.
I had barbecue. Talking about eating barbecue in Texas is like talking about breathing. You just do it without thinking about it. In Fort Worth there are several options that people argue about as to which is best, including Railhead, Angelo's, Riscky's & the best from my side of town, Cousin's.
Today I had beef brisket lunch at
Cousin's Barbeque
. I went to the original location on McCart at Westcreek.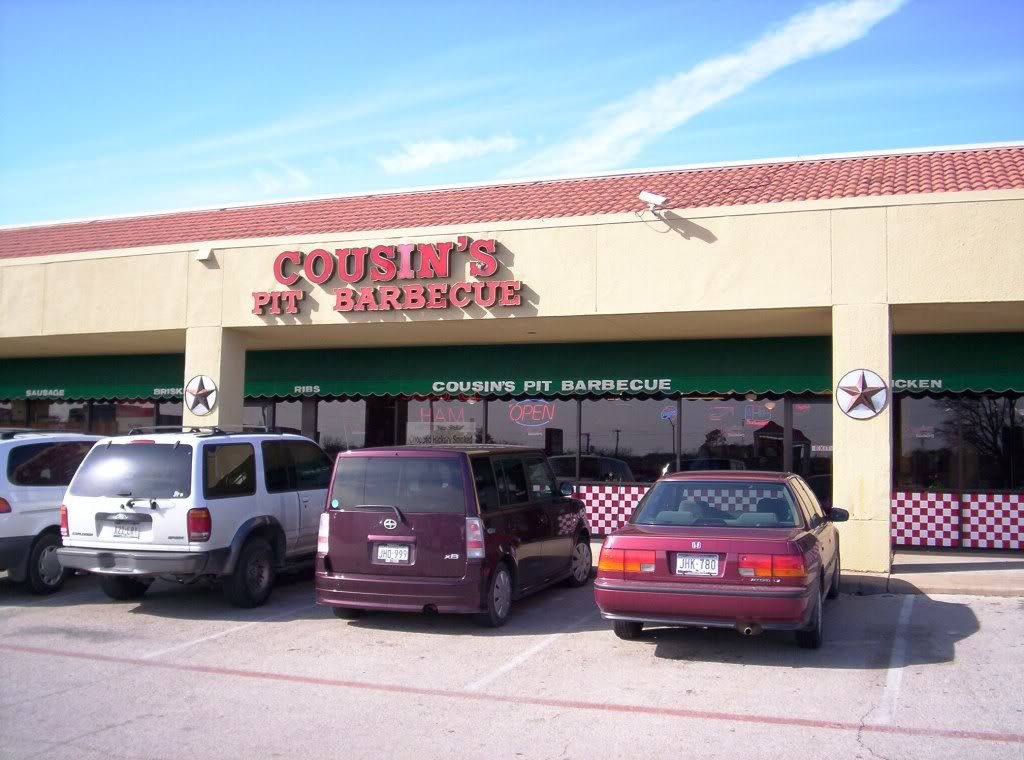 Like most barbecue joints in the area, you order off a big menu at the front of the line and the service is cafeteria style.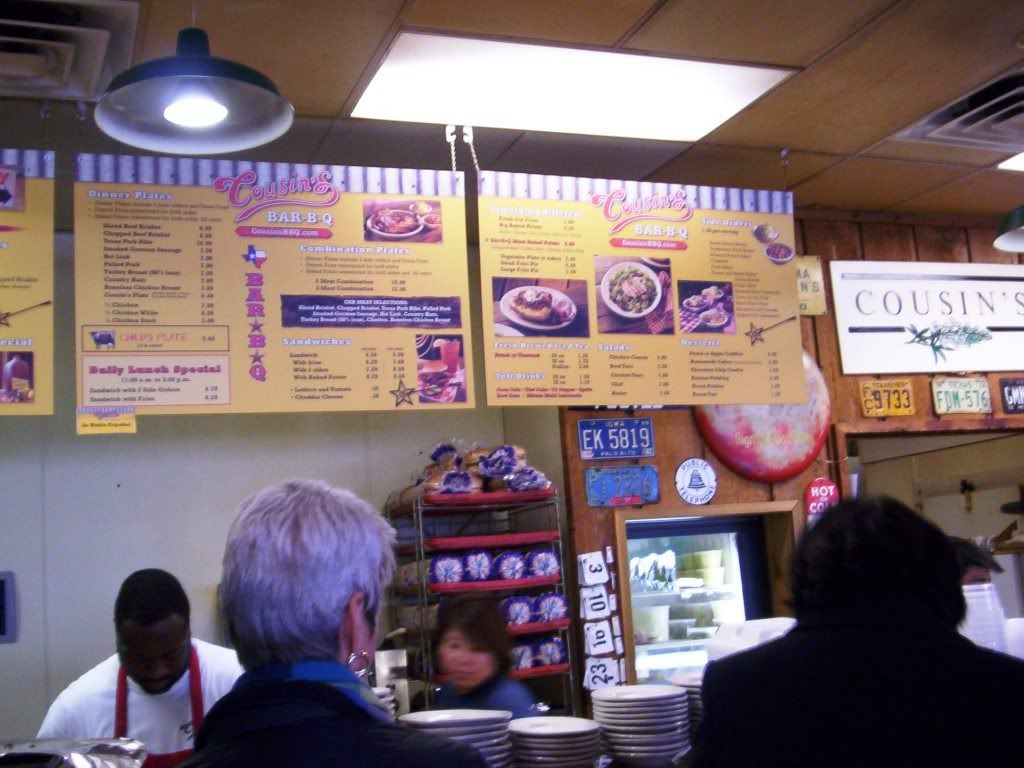 Sushi chefs have nothing on barbecue carvers. Stay outta the way of that knife!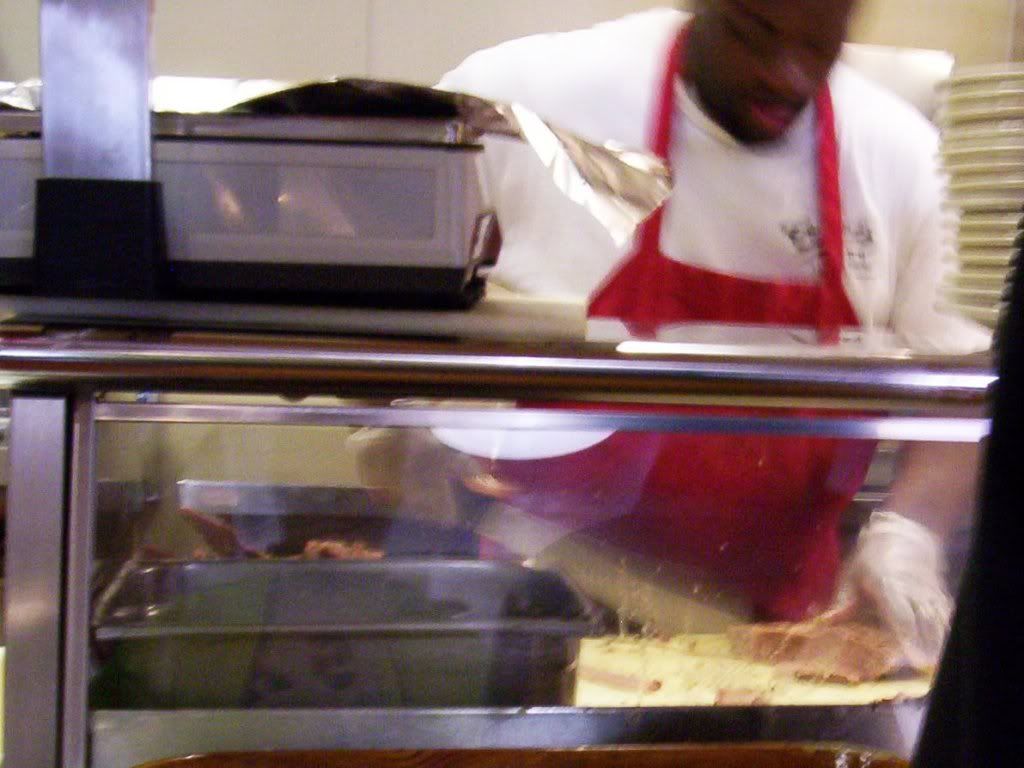 I ordered the sliced beef brisket barbecue plate. At Cousin's it comes with two sides and Texas toast. The pickles are from the condiments bar.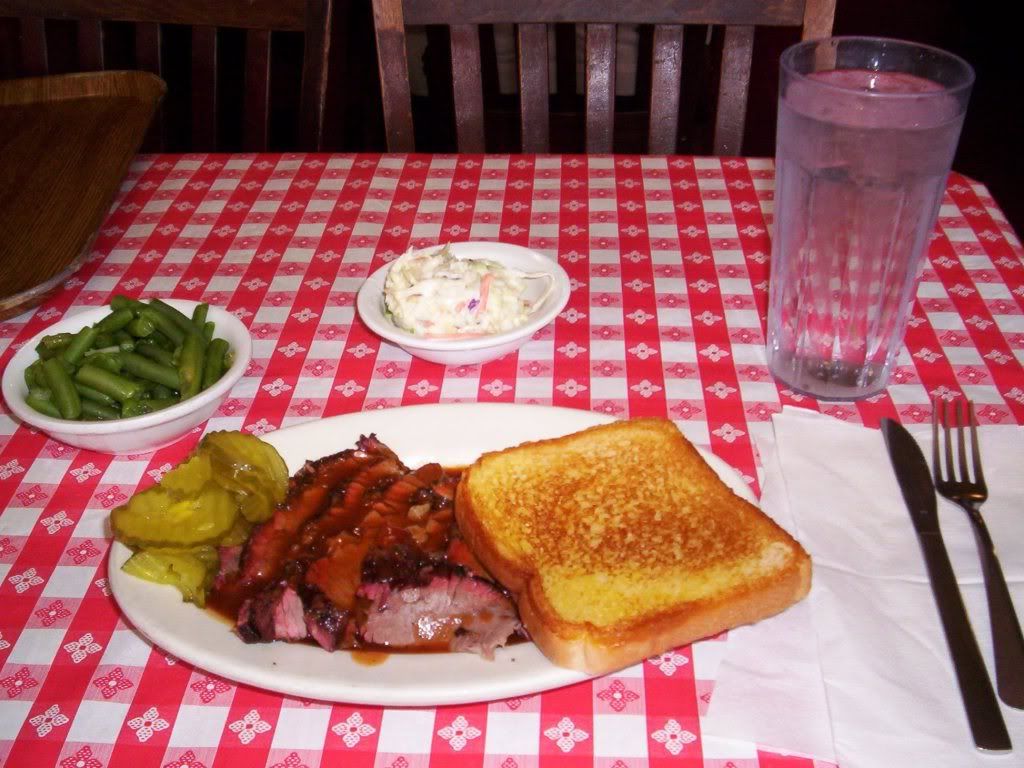 What can you say about barbecue? From what this yankee has learned since moving to Texas, traditional barbecue came from a desire to feed a bunch of ranch hands with the cheapest cut of meat available. The brisket is generally a stringy muscle that can be tough if not cooked right. But if it's slowly smoked, it comes out mouth-wateringly good, and so tender it practically melts in your mouth. I like Cousin's because the meat is so tender. Also, the barbecue sauce is tasty without being too strong. They definitely do it right.
Every barbecue place in Fort Worth has its niche. Railhead is a "see & be seen" place; Angelo's is old school. Riscky's is where the tourists go (they are downtown). Spring Creek is the "McDonald's" of DFW barbecue with lots of locations around. To me, Cousin's is barbecue that's cooked for the locals, without pretense. It is excellent and I highly recommend it. If you need a second opinion, ask Mrs. Doohickie's dad. Last time he visited we took him to Cousin's; he couldn't get enough of the stuff and we had several meals there. Cousin's truly is one of the barbecue icons of Fort Worth.
After lunch I went over for a visit at
City Cyclist
, by favorite LBS (local bike shop) which is in the same shopping center as Cousin's. I got to see a happy customer buy a
Biria Classic Dutch
bike. Her exact words after she finished her test ride were, "I'm in love!"
Finally it was time to head for home. I was freezing when I started. The homeward portion of the ride included a tailwind and getting home was a breeze.