I bought "new" bike back in August- a 1994 Nishiki Sport XRS hybrid that, while it was 14 years old, was still brand-new, complete with store price tags and nubbies on the tires. It's a pretty good bike to ride and makes my commute a breeze, even Hooters Hill.
In December I found out that a lot of cranks from the mid-90s were
recalled by Shimano
, their manufacturer. A quick check and... yep, my bike had the "death cranks" that could break at any time. I contacted my bike shop and they said they weren't a Shimano authorized dealer. I asked them if they were thinking they might want be and they said yes, so I told them I would wait until they were a Shimano dealer for the crank replacement.
Three months later, Shimano finally set them up as a dealer. I was kind of hoping for two weeks or so. Who knew? Anyway, I finally got the bike back Saturday, and on Sunday I finished putting on some new modifications. Since the last time I commuted on this bike, these are the changes:
. Shimano replacement cranks
. Planet Bike Freddy Fenders
. Origin8 Space Bar
. Instead of grips I have the world's shortest handlebar tape job
. And a Trek bike computer I got for free from a friend
So this
Became this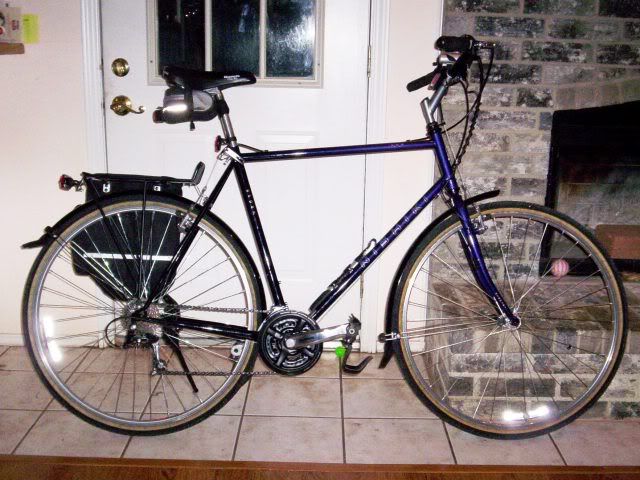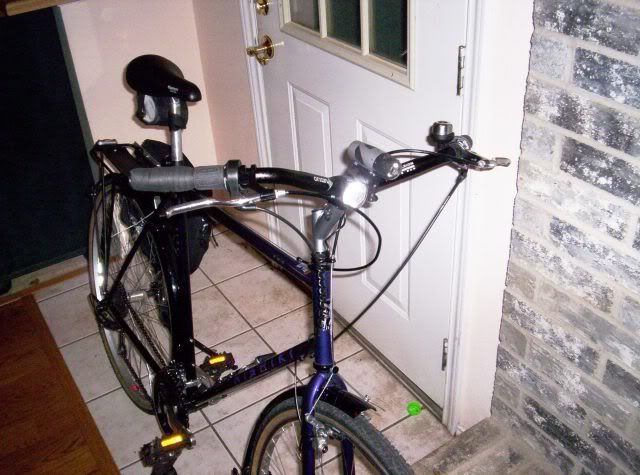 Old flat bar
New Orgin8 Space Bar
I couldn't ride today because I had to take Mrs. Doohickie to the airport. So tomorrow will be my first commute on my new old bike.