Getting back on my Nishiki hybrid now that my
recalled Shimano cranks
have been replaced has been interesting. Of my 3 daily riders it is the most modern (only 15 years old) with cantilever brakes and indexed shifting. I'm always in the right gear, or if not I'm just a click away, which is awesome. Everything is just sooooo smooth on it with it being so new. (Although it is 15 years old, it has very few miles on it.)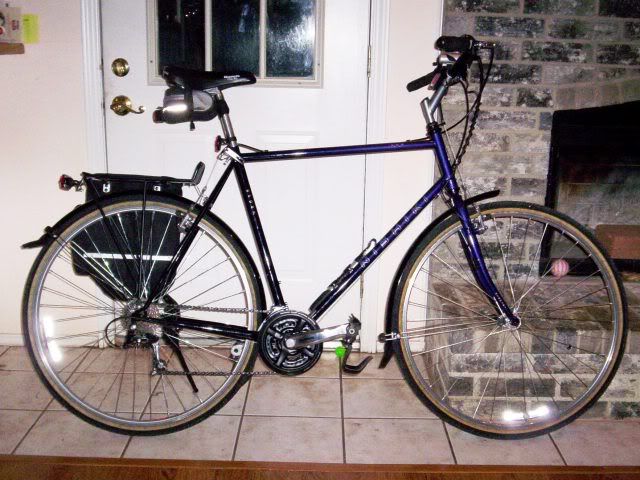 My biggest complaint was the flat handlebar, which I replaced with an Origin8 Space Bar.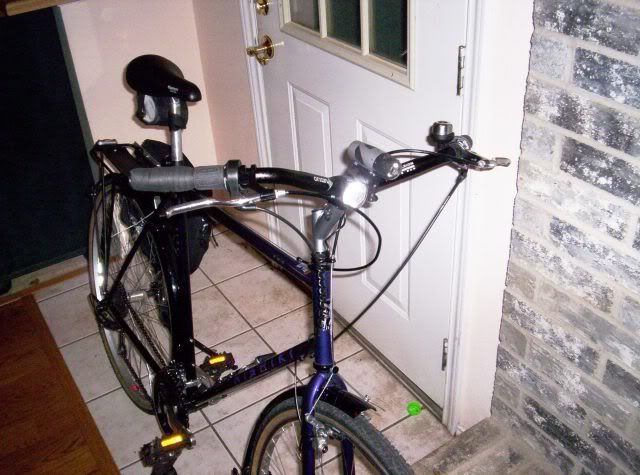 Between the shifting, the upright position, and how smooth it runs, it is a great commuter and handles traffic well. I can accelerate quickly, I can see and be seen.
The downside is that the bike has 21 gears, all of them low. Coming down Hooters Hill in the morning, I do the eggbeater thing with the pedals and the most I've managed is 38 mph. If I had taller gearing I could really fly; it might even be worth it to put drop bars on it. Still, I'm very happy with it.
The 1983 Raleigh Marathon I was riding most days while waiting for the Nishiki to get new cranks was a good performer, especially considering I got it out of a dumpster. The last few days I commuted with it, though, there was a click in the bottom bracket that got progressively worse. I repacked the bearings on it and it seems to be riding better around the neighborhood, but I really need to take it on a longer run to be sure. A breakfast ride would be good to wring it out and make sure the bottom bracket is all better.
It was the first time I rebuilt a bottom bracket, but with
Sheldon Brown
's help and
Big Oak
's example, it was pretty easy. That leaves only the headset on this bike to be repacked; I did the hubs a while ago.
The Marathon rides well. It has the feel of an organic, living thing (as opposed to the Nishiki's technical exactness). It's an analog device in a digital world. I have to dial in the friction shifters after finding the gear. Yet, there is art to the bike. It is something that becomes an extension of me, rather than an appliance I ride. And this is the only bike I can remember owning where the drop bars feel natural. Maybe it's just that I've tinkered with it and fit it to myself better than other drop bar bikes I've ridden. But when I find the right gear and I get down in the drops, it feels like I can ride forever.