A Carnivore's Guide
If you haven't heard, Fort Worth has a pretty good vegan diner.
The Spiral Diner & Bakery
, at 1314 West Magnolia Avenue, is the best choice for vegans in Fort Worth. Surprisingly they have what it takes to keep meat eaters happy as well.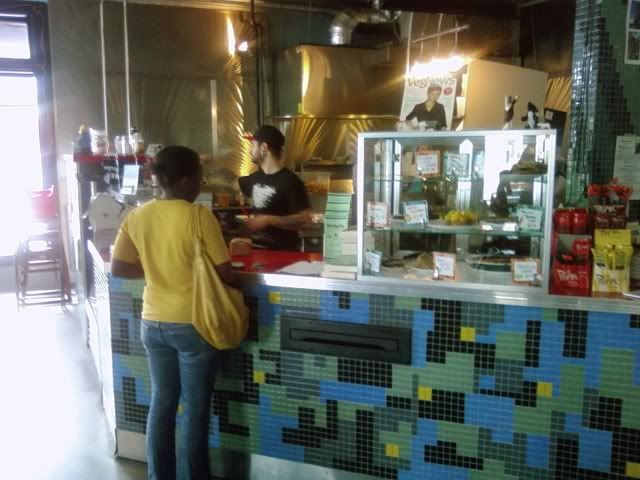 The decor of the place is what you would expect for a hippie-vegan place. Kind of mid-20th Century shabby chic...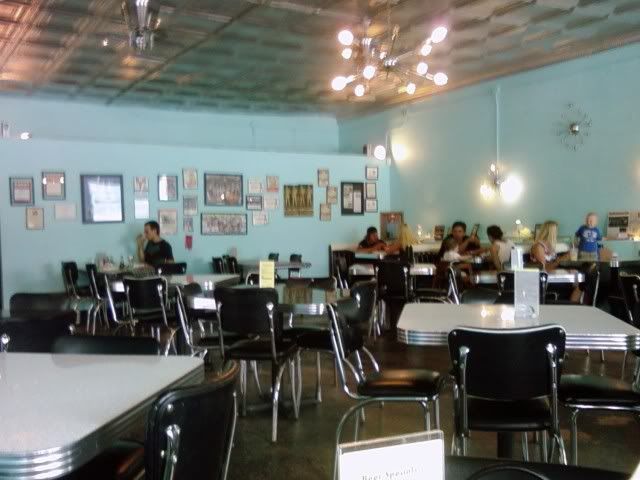 ...on hallucinogens.
The wait staff are in character too, with tattoos and piercings and stuff. They are always friendly and make you feel welcome. This time around, Mrs. Doohickie ordered her usual- a Hummus appetizer and Sweet Luv'Us Hummus Wrap. I ordered the special which was a Meatloaf Dinner. Ermmmmm, I mean Meatlessloaf. Whatever.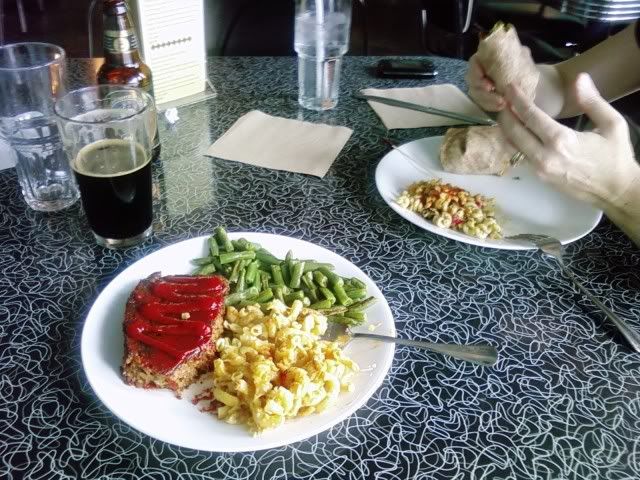 The portions are surprisingly filling. They are also surprisingly realistic, even though they have no meat or dairy or anything like that. You can go meatless without hardly realizing it. One of my favorites when I'm not in the mood for the special is the Jamaican Jerk BBQ San'ich which, if I didn't know any better, I would think was made of real pork.
This is where I go off and editorialize a bit: I'm not vegetarian; Mrs. Doohickie is. When we go to a vegan restaurant, she orders something vegetablely. Her wrap had baked sweet potato, hummus, broccoli, cucumber, avocado, and salad greens. What I don't get is why some people try their best to make vegetarian food seem like meat. If eating vegan is so great, why fake it and make it like meat? I do appreciate it, mind you. Maybe they do it because they know there are mixed families and they want to keep the carnivores happy.
The Spiral Diner does this very well; I've never had a bad meal there. Oh... the other thing that makes me happy: They have an excellent selection of beers.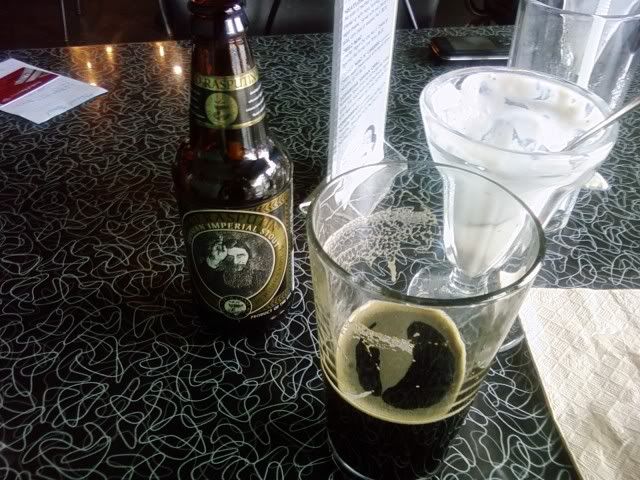 This time around it was Old Rasputin Russian Imperial Stout. It's is a heavy, wheaty stout that will knock you on your can with 9% alcohol content. Delicious. Oh... and the ice cream is pretty good, too! So to sum it up, don't be afraid of the vegan food at The Spiral Diner, even if you'd rather just run out for some barbecue. Those crafty vegans are so tricky, you won't know you're not eating meat.