So I took my car in for some warranty work, then went with Mrs. Doohickie to help her move some stuff at her office at work. After dropping the car off we went to breakfast at a nearby diner, Our Place Restaurant at 7630 NE Loop 820 in North Richland Hills.
It's basically a Bob Evans. Without the Bob. Or the Evans. Okay, it's a former Bob Evans restaurant, but the new owners have put their own spin on the place. We were both in an omelet mood, so I got a Greek Omelet and Mrs. Doohickie got a Veggie Lovers Omelet.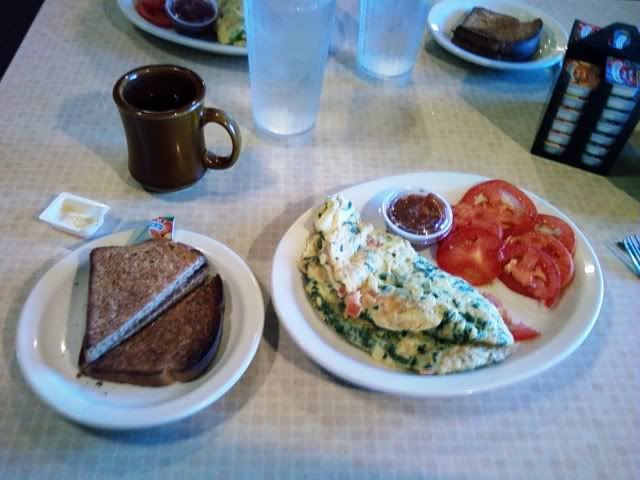 It said it was a three egg omelet on the menu, but I think they lied, because it was huge. The eggs were light and fluffy and tasted wonderful. I'm a big fan of the Greek Omelet at
Ol' South Pancake House
and to be honest, I won't be pinned down as to which one is better. The omelets from the two restaurants are different, but both are very tasty. The food arrived quickly and my coffee cup was filled frequently.
If there was any fault with the experience, it was that the final check took a while to get to us, but that was minor. Good food, a better value than any corporate owned place (like Bob Evans). And definitely more like real home cooking than Bob Evans.