A comparison of two tail lights.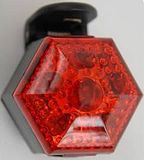 The first is the an SX-6000 Extreme Mini-Pro by DuraVisionPro. It's pretty much
this light
. Retail price on their site: $19.99. Retail price at my LBS: $10.99.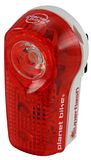 The second is a Planet Bike
Blinky Superflash
. Retail price on their site: $29.99. Retail price at my LBS: $23.99.
Basically, this is a comparison between your basic bike shop LED tail light and one of the most popular tail lights sold. Is the Planet Bike Superflash really worth $10 more than the LBS competitor? I think so.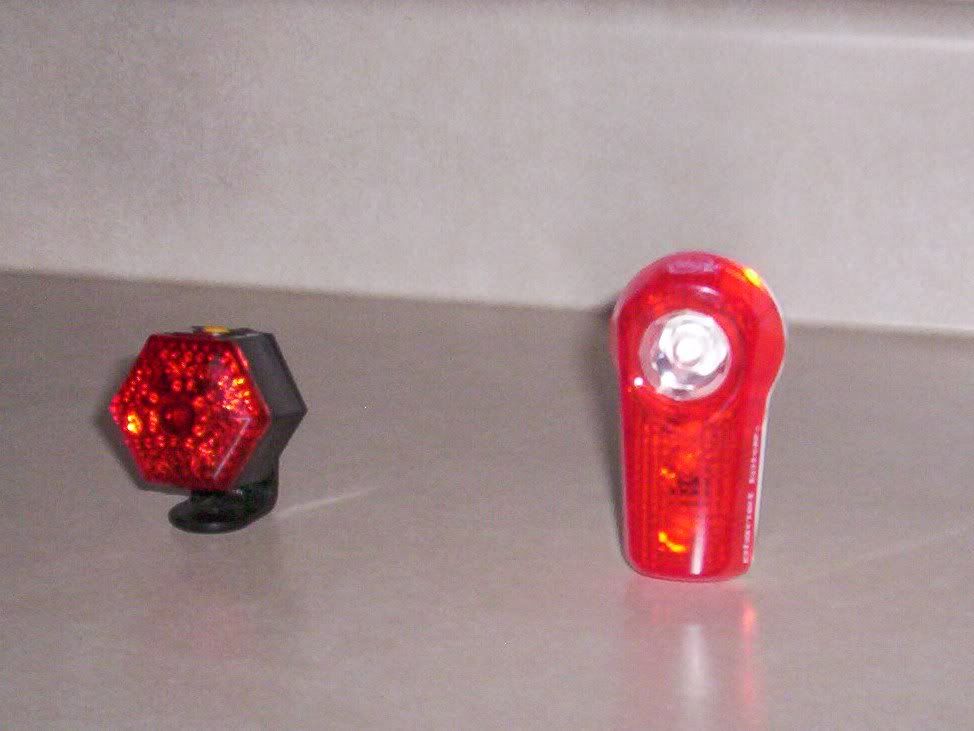 The first discriminator for me is the battery used. The Superflash uses two AAA batteries. So when the batteries need to be replaced, you can get batteries anywhere, and cheap. The SX-6000 uses two CR2032 watch batteries. They don't seem to last as long as they should, you have to make a special trip for them, and they are more expensive than the AAAs.
How do they work? Well, the Superflash is better again. In constant-beam mode, you can see how much brighter the Superflash is on the right.

The Superflash is even better in flash mode. This little video demonstrates the difference. You can see the Superflash, again on the right, blinks the two smaller LEDs at a fairly rapid rate, then periodically the big LED lights up.... POW! If you want cars to see you, this light is the one.
On the downside, there really isn't a less-powerful setting. In constant-beam mode, the Superflash only lights up that superbright LED. Out in traffic, this is clearly an advantage. If you're riding in a group with other cyclists, or riding on a trail, it may be too much. For those applications, the SX-6000 is actually a better tool for the job.
But if your primary goal is to be seen, the Superflash wins.