I belong to a bicycle club, although for me that mostly means I ride with them just on Saturdays. They have several rides during the week, but during the week I get my miles in commuting. On Saturday morning, though, they do a breakfast ride, meeting at a particular parking lot and setting out from there on a seventy-minute (give or take) ride to a restaurant. They alternate restaurants so the route changes from week to week.
They set up three routes based on speed, each designed to take about 70 minutes, designated Cruiser (slow), Pacer (a little faster) and Swifty (fastest). One thing I like about this group is they have some pretty fast riders, but they are not snobbish about it at all. All the riders help and encourage each other quite a bit.
Anyway, this past Saturday, I did the breakfast ride. I ride to the rallying point, about eight miles from home, which adds some extra miles to my ride. On the way to the ride, I came upon a very odd looking cat crossing the road. I slowed down and even dismounted and got out my camera phone to take a picture of it. (Note- these pics were all taken with my cell phone, and as the day went on, you can see it was getting a little, um, damp.)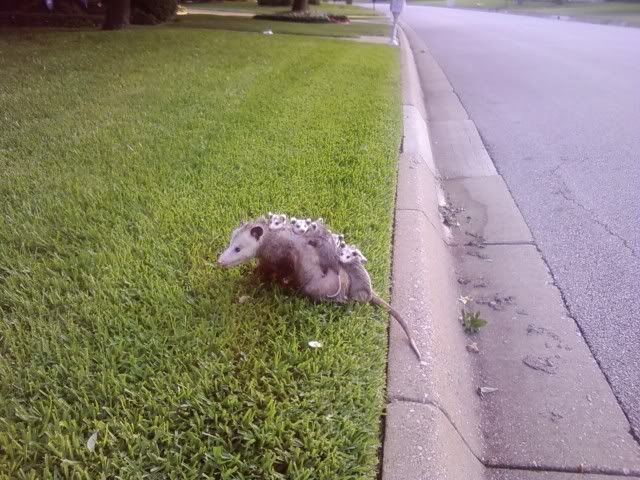 It turned out to be a momma possum carrying a half-dozen babies on her back. This is typical of the things you notice when you ride a bike. I never would have noticed it if I had been driving, and not stopped to get close enough to take a picture.
Anyway, after meeting up with the crowd, I started out with the Pacers as usual.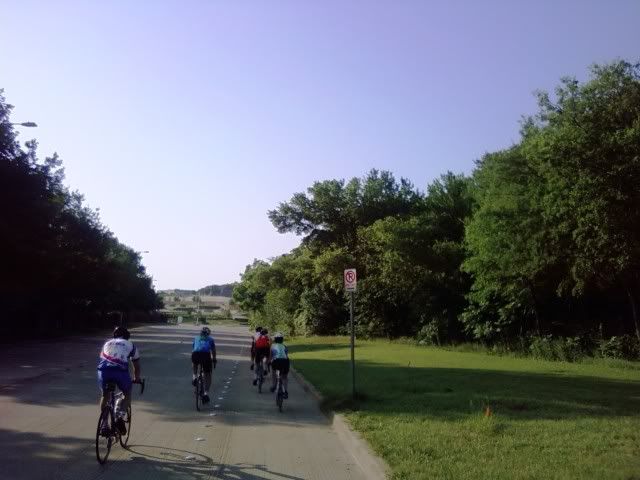 Three of the riders with the Pacer group sometimes ride with the Swifties. They decided they weren't out for a full-tilt ride with the other Swifties, so they started with the Pacers. They decided to ride the longer Swifty route anyway, and invited me along. I wasn't going to join them, but after some prodding I did. I guess you could say we were the Swifty Lites.
At first I had some trouble keeping up, especially on hills. I think they relented a bit and I managed to keep up. After a while though, I found that I was usually leading (whether by design or not, I'm not sure).
We got to ride down Ranier Court, a nice little downhill where 40 mph on a bike is realistic.
After breakfast at
Paul's Donuts
I joined the
Fraternity of Cyclists Who Have Had to Wait
for the
Forest Park Miniature Railroad
. (The railroad just celebrated its 50th anniversary the day before.)
From there on out, it was back to Trinity River Trail,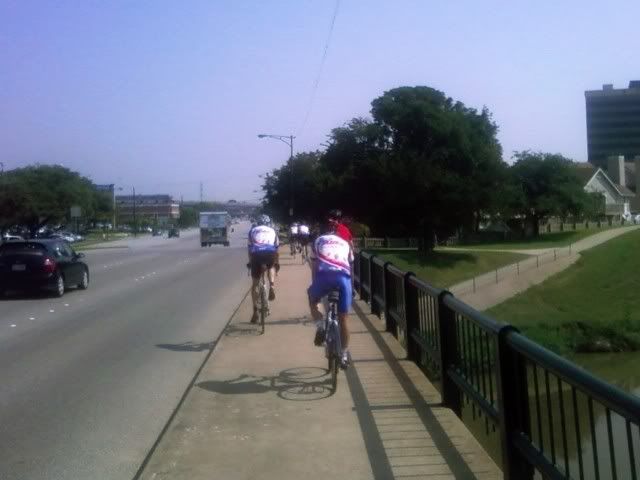 for a quick and easy ride back to the start.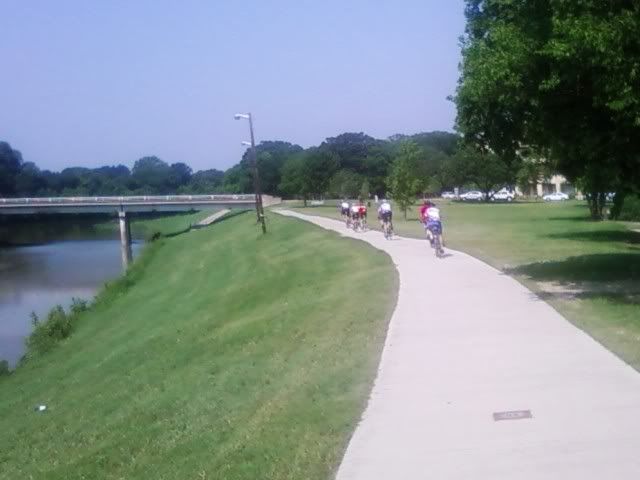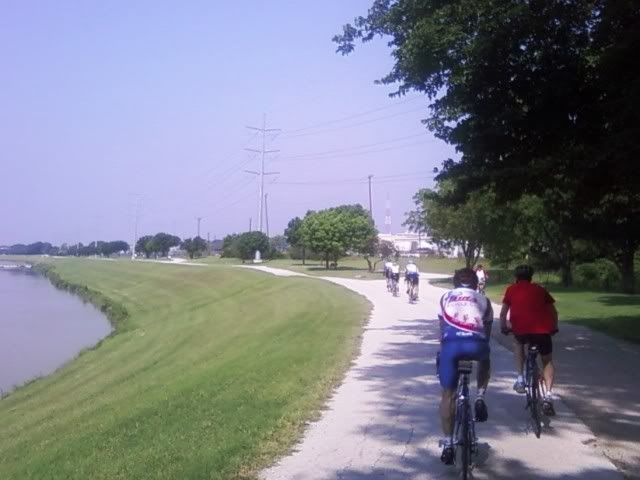 Several of the group was riding home in the same direction as I was, so I rode with them a little further down the trail until our paths separated and I rode the rest of the way home. Shortly after separating, I had to climb up Oakmont hill, for the second time that day, this time in 90+ temperatures at the end of a long ride.
Ugh.
I got up it, but still had about 7 miles to make it home. I wasn't sure I could do it after pushing my speed with the Swifty Lites, but I made it. It was my toughest ride this year so far- the nearly 50-mile ride, pushing my speed beyond my normal pace, on the hottest day of the year so far.
So... to tie all this in with bike commuting, I guess that after doing all that, my commute will seem easy! Many of us cycle commute for the pleasure of it, but I think it's good to press beyond your normal limits to keep the ride fresh and appreciate your bike.