A few posts back I talked about taking the drop bars off my Schwinn Varsity and replacing them with Tourist bars. I finished the task last night and rode the bike to work this morning. Here's The Great Pumpkin outside my front door before going to work.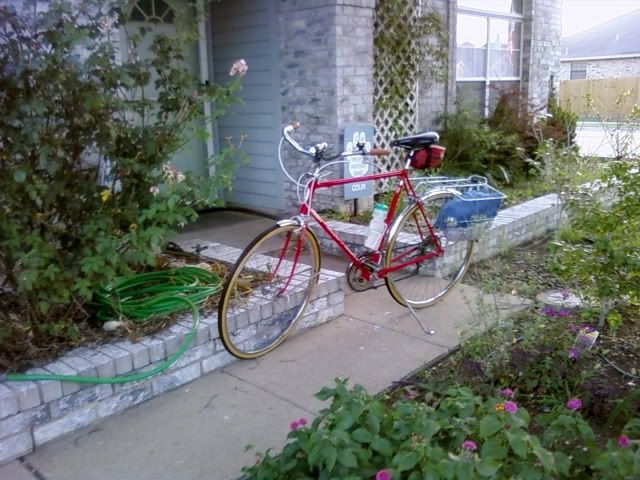 You wouldn't think putting upright bars on a bike would make a big difference in the way the bike rides, but it is a totally different ride. In an earlier post I said, "There is something crude and primal about this bike. It rubs, it squeeks, it doesn't like to stop. Riding this bike is like holding a tiger by the tail." Not anymore. In the upright position I feel much more in control.
It also feels perfectly comfortable to ride this bike slowly. It just doesn't beg to be hammered anymore; it is truly a cruiser. It rides smoothly, but it just doesn't
need
speed to feel like it's doing its job.
After work I took one of my slightly longer hot weather routes home. This route takes me down the Trinity River Trail, then through a shady neighborhood for much of the ride home. It was 100 degrees today, but with the Slow Bicycle mentality this ride inspires, I savored the ride home. I stopped on some of the low water crossing dams to take a few pics. This is the crossing near Southwest Boulevard.
Back on the bike,
I came upon some guys fishing by the Bryant Irvin bridge.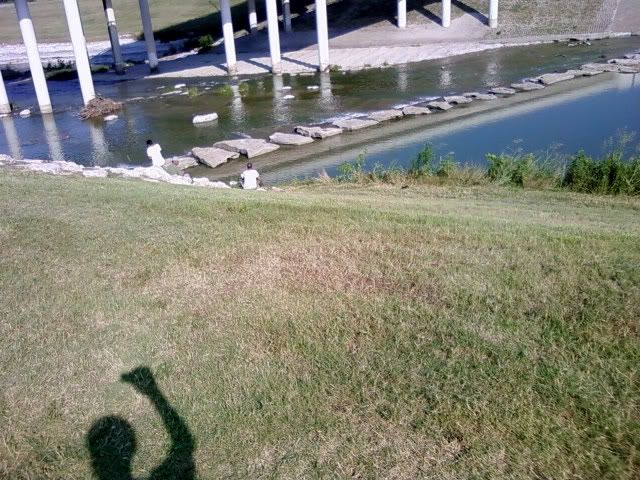 Smooth sailing. You can see that summer is upon us; the grass is beginning to die off. :(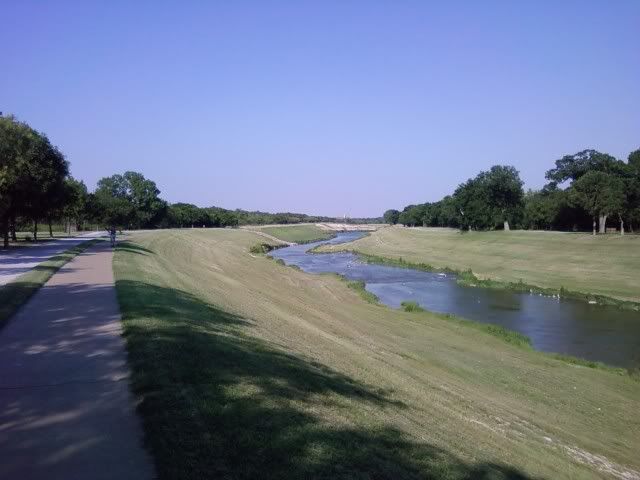 Then it was time to cross back to the south side of the river at the crossing just west of Hulen Street.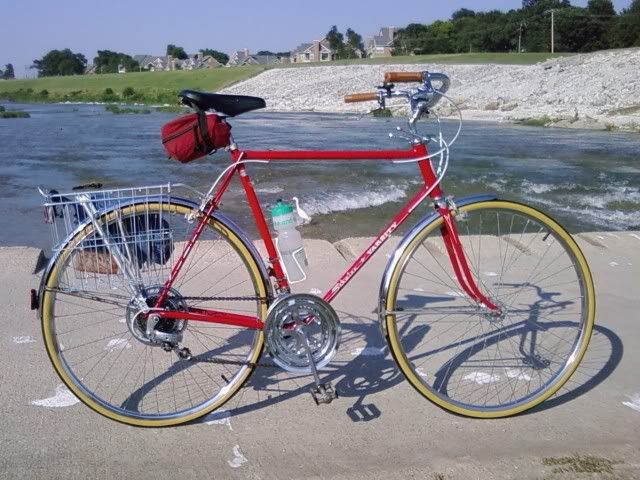 I planned to take pictures along the whole route home but my cell phone battery died. My route home went south on Overton Park East and Inwood through the Tanglewood neighborhood. Then I jogged over to Hildring which crosses under I-20 but over the I-20 access road which means no traffic to worry about. This leads to the Wedgwood neighborhood, then Candleridge, and I'm pretty much home.
Like I said, the Varsity Tourist is a nice cruising bike that doesn't like to be hurried. The route is probably 10-12 miles, and it took me at least an hour to get home. But when I got there, I was still relatively fresh considering I had just ridden that distance in 100 degree temperatures. The Varsity is a different kind of a bike. Different is good.