Part 3: 1966 Raleigh DL-1 Tourist, "The Old Gentleman"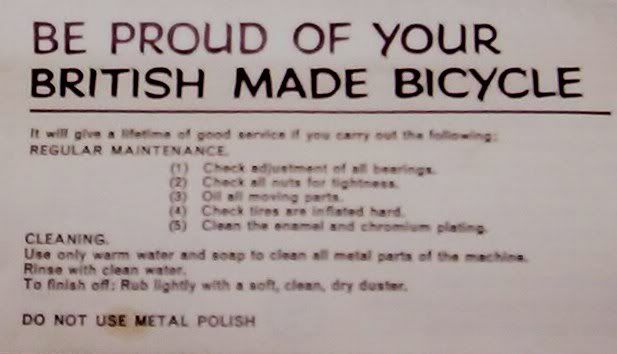 When I bought my newer Nishiki, there was another bike there as well. Shortly after buying the Nishiki I had a business trip and couldn't ride for two weeks. Two things sank in during the trip: I decided I didn't want to bicycle commute once in a while, but EVERY SINGLE DAY, if possible. The second thing that kind of planted itself in my mind was that I wanted to look at that other bike.
The only things I could remember was that it was old and it was a Raleigh.
When I got back from my trip, I made good (so far, anyway) on commuting more often. I also got another look at that Raleigh. It had two flat tires, rusty chrome everywhere, an old, cracked, leather seat (oh... um... on bicycles I understand they are referred to as saddles by those who are knowledgeable about such things), some wires hanging limply that went from a generator to a headlight, a 3-speed hub and some weird looking, funky brakes.
I decided to buy The Old Gentleman, as I've begun to call him, and took him home. I took some pictures that first night. Not much to look at- an old, worn-out saddle, a saddle bag with broken straps, the wires hanging around...
Note the old headlight...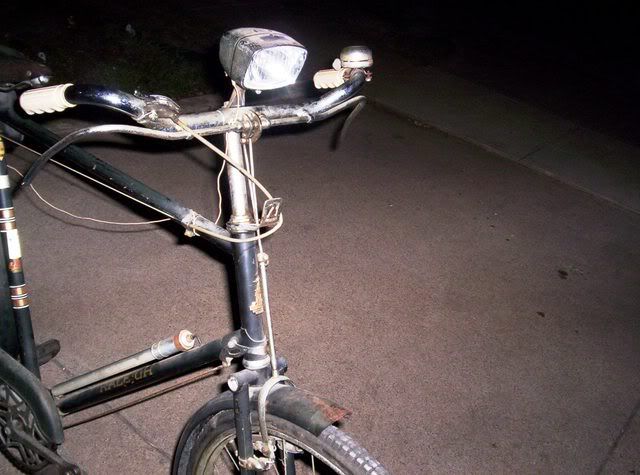 ...and original frame pump.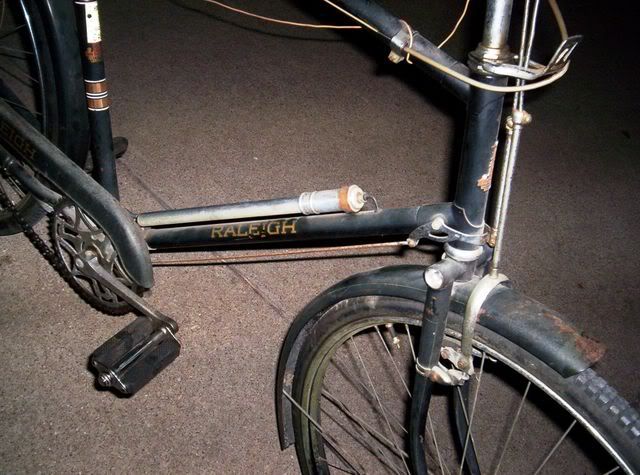 Wait a minute... what's going on with those brakes?
I came to learn that this bike as "roller lever" or "rod" brakes. Instead of a cable, they have a hard linkage all the way back. Instead of squeezing the rim like caliper brakes do, they are pulled up into the inside of the rim. This was done to make the brakes more rugged for bikes intended for the English countryside.
Still, even that night, The Old Gentleman had a stately profile
There was a City of Houston registration sticker on the bike from 1975, so it's at least that old. I learned that the Sturmey Archer 3-speed hub has a date code on it, and the one on this bike is 65 12, which means it was made in December, 1965. Based on that, I'm calling this a 1966 model.
I cleaned The Old Gentleman up a bit- shined up the chrome, waxed the frame and lubed the working bits. I also did some basic maintenance- reconditioned the Brooks saddle, replaced the shifter cable which was kinked, and replaced the saddle bag with a NOS (new, old stock) bag of the same style. Then I added some Wald baskets front and back, and now The Old Gentleman is ready for duty as a grocery getter and back-up commuting bike.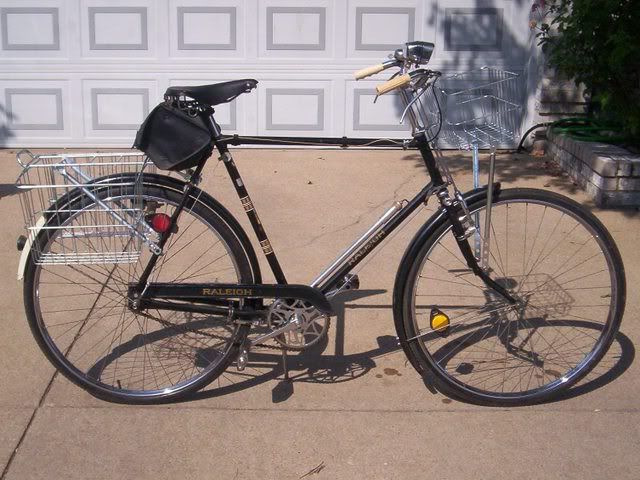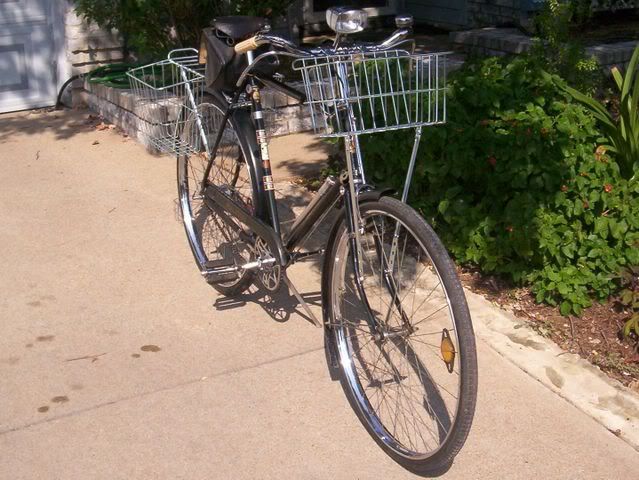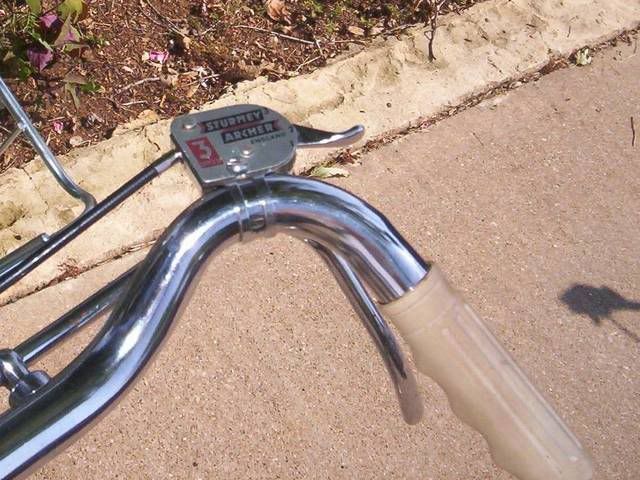 Me, with my new bikes.