Strictly speaking, this has nothing to do with commuting.
Having said that, I haven't posted here in a while and since the goal of the blog is to encourage people to commute, I thought I would point out the obvious: Commuting is a great way to get miles in during the work week. Sometimes having those miles under your belt helps with other pursuits.
This morning I engaged in such a pursuit. I decided that I would do a local club ride. Usually I just do their breakfast rides which begin 8 miles from my house. Today's ride was a little different; it started at 8 am on the west side of town, about 16 miles from home. The planned distance was 30 miles (turned out to be a bit less). I started putting some scenarios together in my head and realized that if I left home at my normal commute time, 5:30 am, I could get enough miles in by 8 am that, when added to the 30 miles plus my trip home would equal more than 62.2 miles. Kind of an odd number you say? Do the conversion: That's 100 kilometers. I'd never done a metric century (100 km). Until today.
Before Meeting the Group: 27 miles
Like I said, I left before dawn at 5:30 am. This was to get a bunch of miles in before it got warm out, and also to try to avoid the chance of thunderstorms later in the morning. When I got on the trail it was still pretty dark out.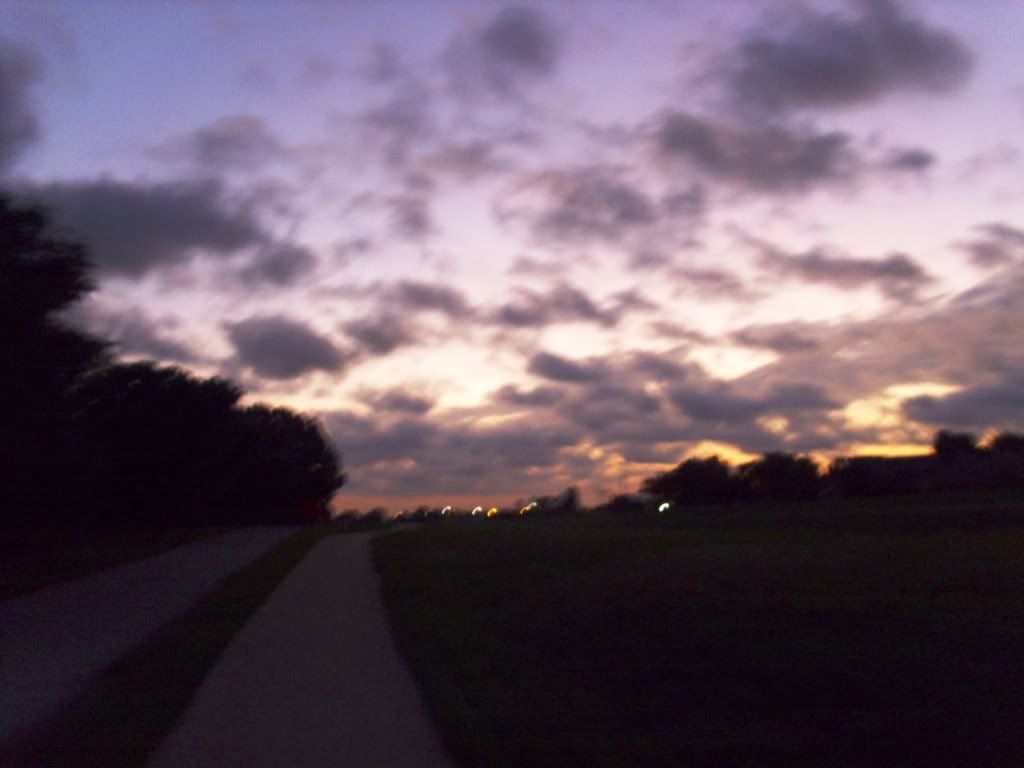 Shortly after 6 am, I took this video as I crossed under the Hulen Street bridge.
Just after putting the camera away, I found out I wasn't alone on the trail when I passed right by a fox that was no more than 5 feet off the pavement. If you're familiar with Fort Worth, it was at the spot across from Colonial Country Club where the view of the train yard gives way to the stand of trees just before Rogers.
Here's a nice shot of the sunrise over the Trinity River, with downtown in the background.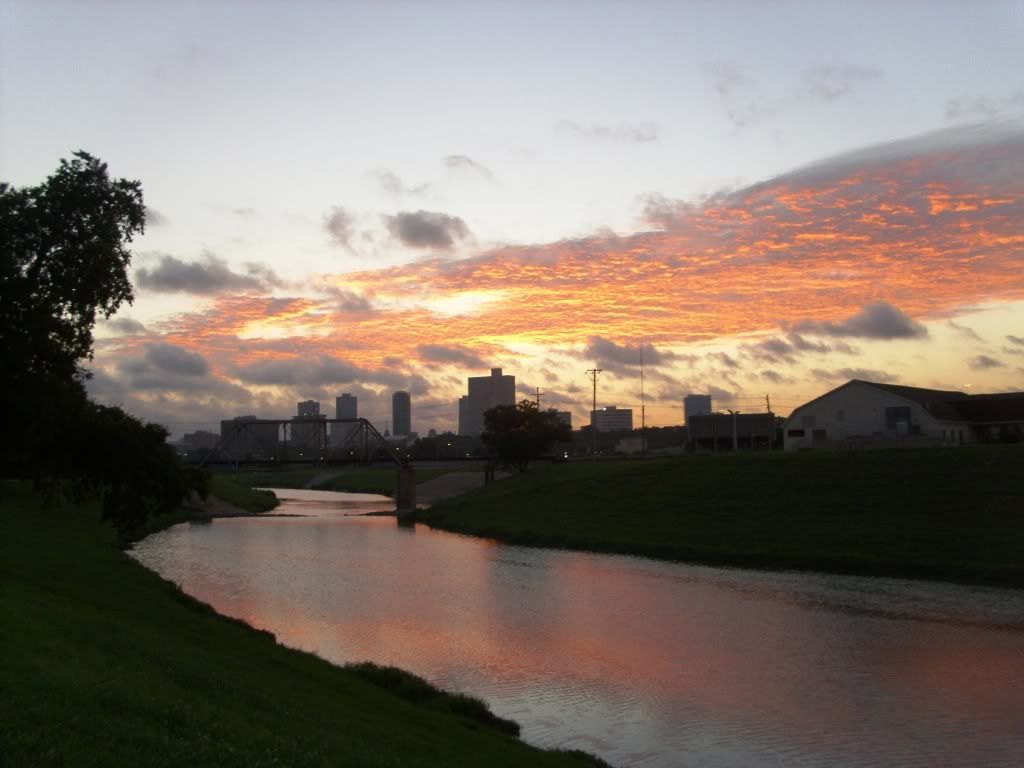 In this shot, the group of buildings on the right side of the frame is Radio Shack headquarters, with the river reflecting the sky.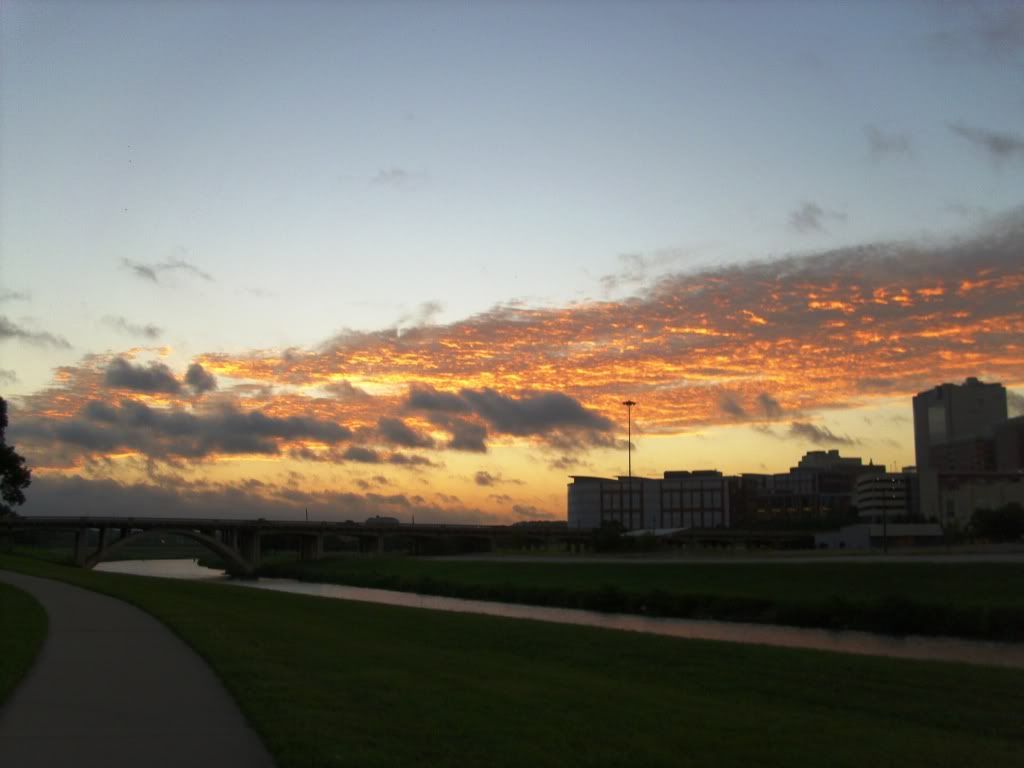 There is a bridge right after this by which cyclists can access downtown, or go north to the Stockyards. I did neither; instead I stayed on the side of the river I was on and followed it as is swings northwest toward River Oaks. I followed the trail less traveled. The one that's not paved, it's covered with packed stone. It's still plenty smooth enough for road bike tires.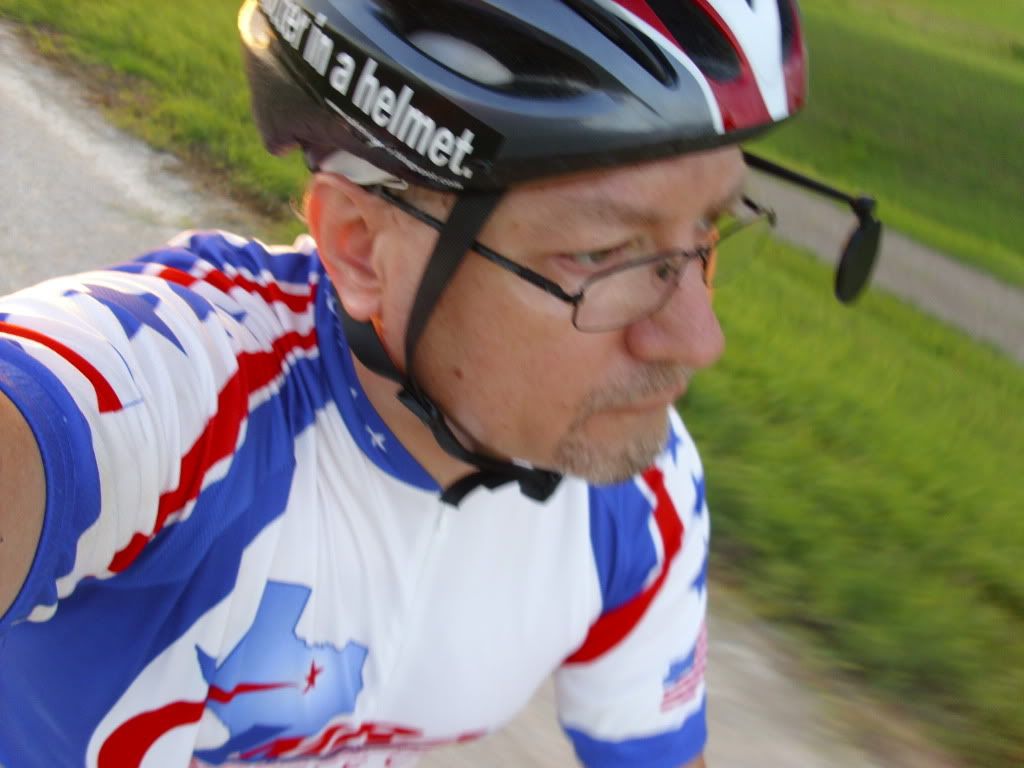 There are actually several trails- one outside the levee (on the left) one on top of the levee (center) and one inside the levee (right). Even though the other paths were paved, I preferred the path on top of the levee. Besides, it reminded me of
Memorial Day
.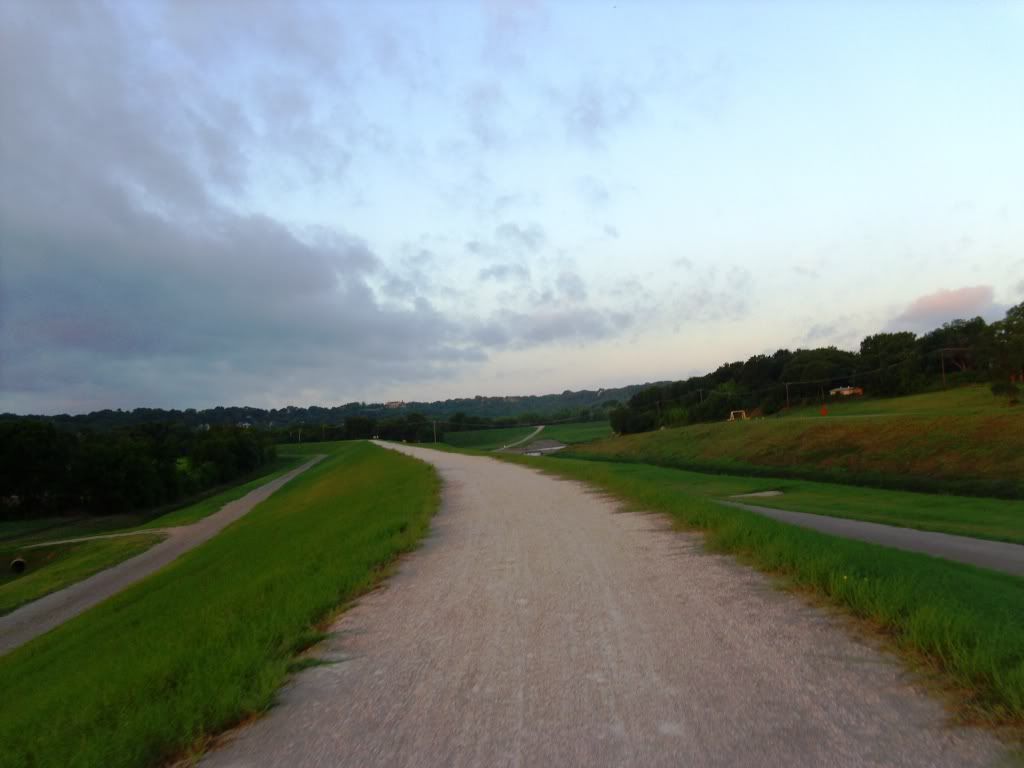 If you're in the Fort Worth area and are looking for a quiet place to ride, the River Oaks branch of the Trinity Trails fits the bill. That trail was recently extended and now goes right by a waterfall before it ends at Pumphrey Drive.
I followed Pumphrey south to Westworth Blvd. and followed that west where it turns into Alta Mere Drive (TX 183). TX 183 is a busy road with a lot of retail traffic these days, but here again my early start time paid off as there was almost no traffic to be found. I stopped in for some breakfast before meeting my club, and met a great group of older ladies who hold court at Ridgmar Chick-Fil-A every morning. They insisted I give them a full report of my bike riding thus far and my plans for the day. With wishes of good luck, they sent me off to meet my club.
Group Ride: 29 miles
I met the group at Veterans Park in White Settlement. We divided into several groups according to the pace we wanted; because I had already ridden 26 miles I chose the Cruisers. We headed north toward Lake Worth and followed its shoreline for several miles.
Then we hopped on the access road for Jacksboro Highway to get to the Fort Worth Wildlife Preserve.
The preserve was nice riding- almost no traffic,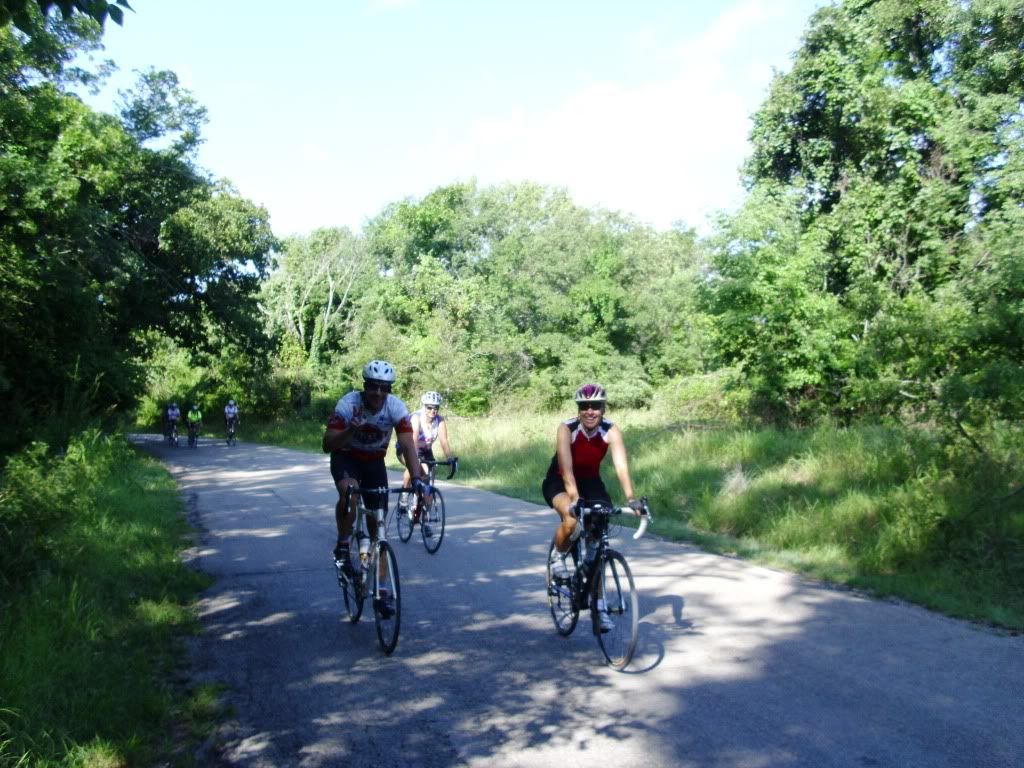 ...and a lot of shade. Good thing because those predicted thunderstorms never came.
We got to see the buffalo roam.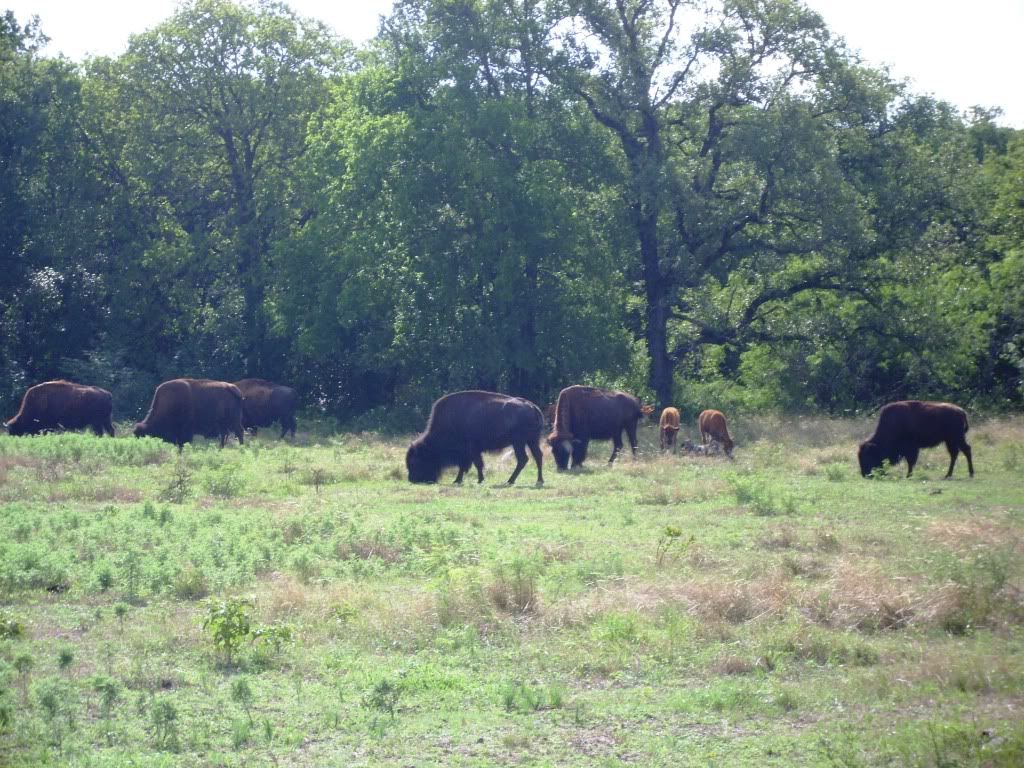 ...but it was time to move on.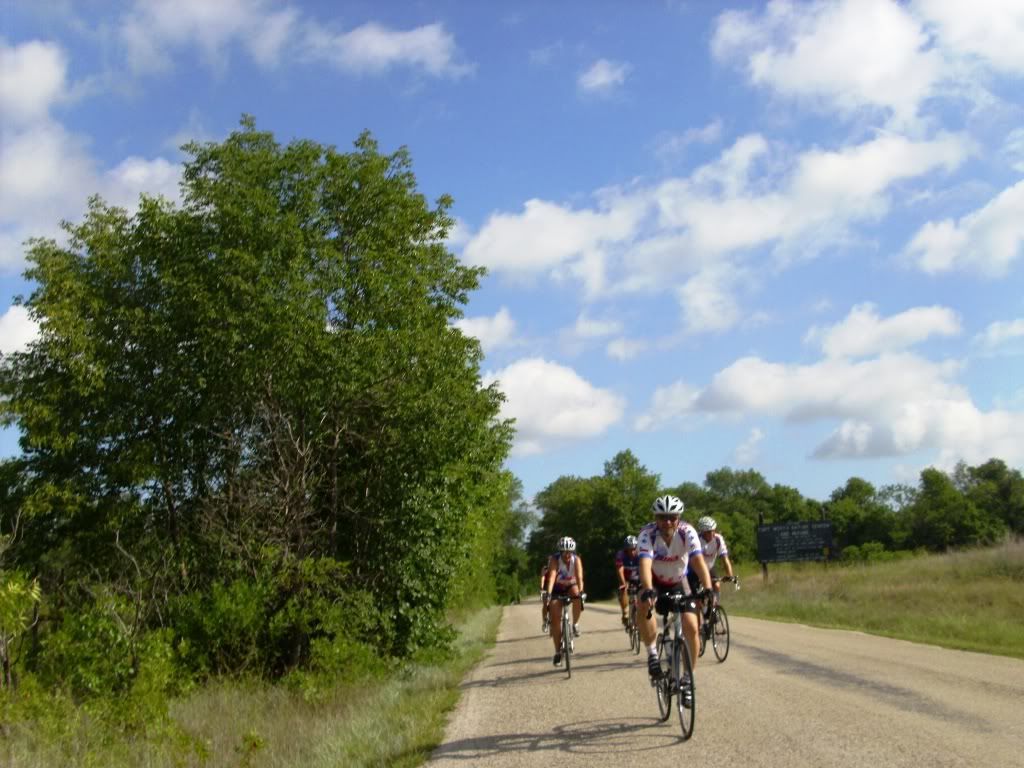 We wound our way through a rural area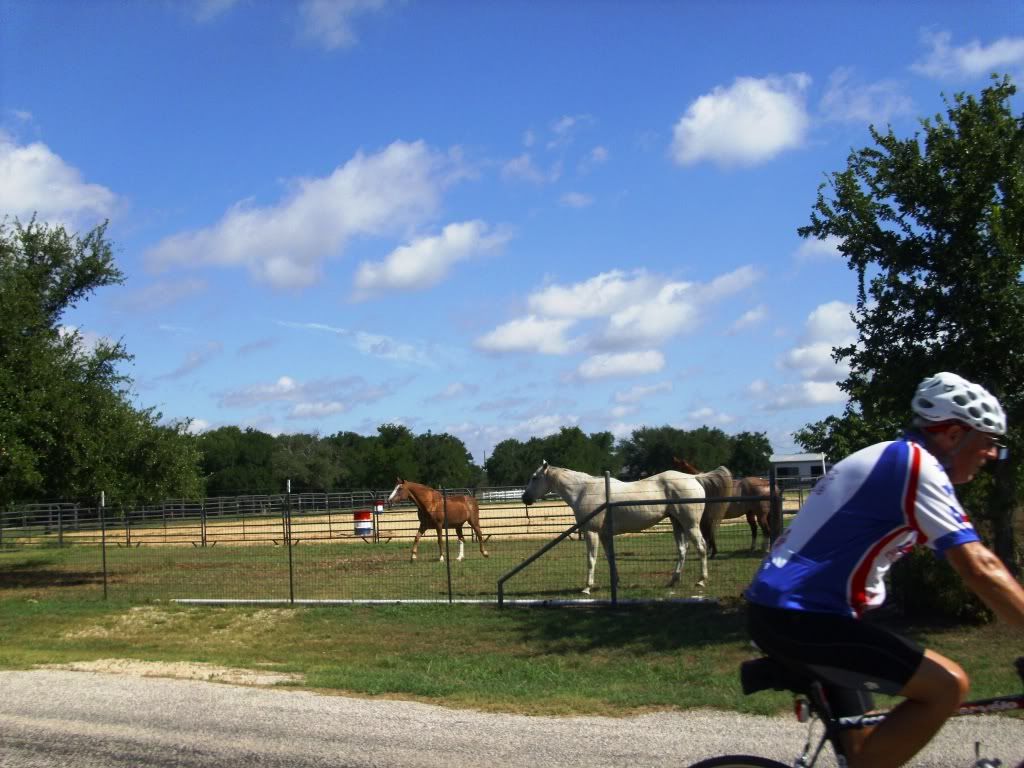 Before heading back to the lake.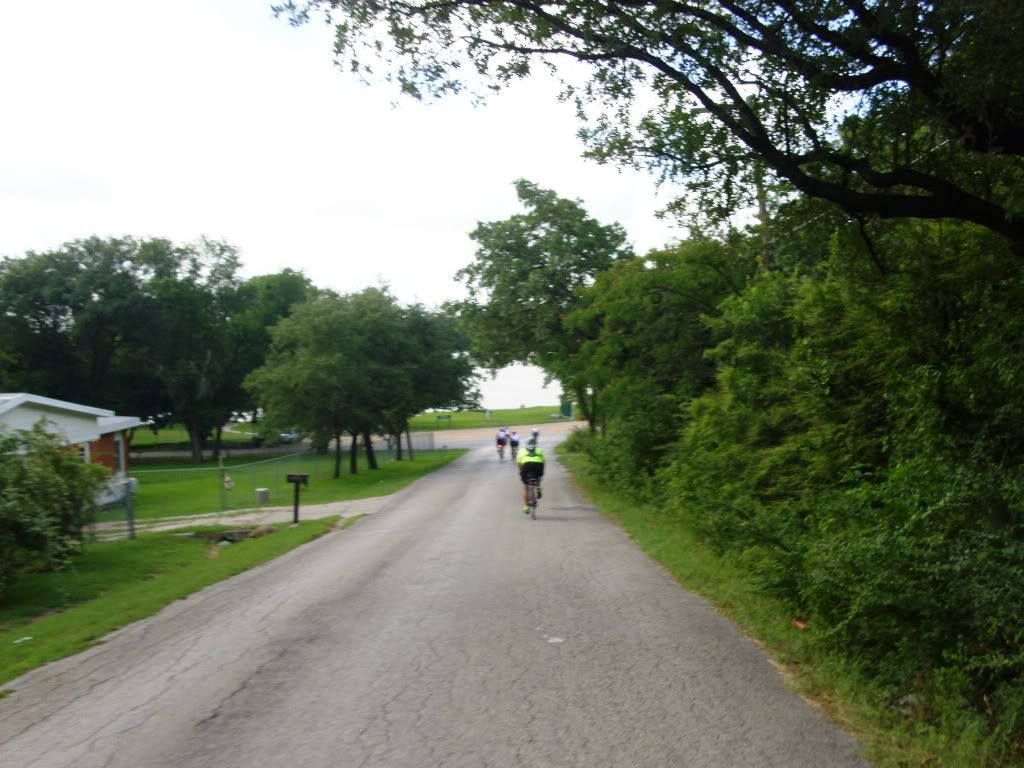 We got back to the park and awaited the other riders' return.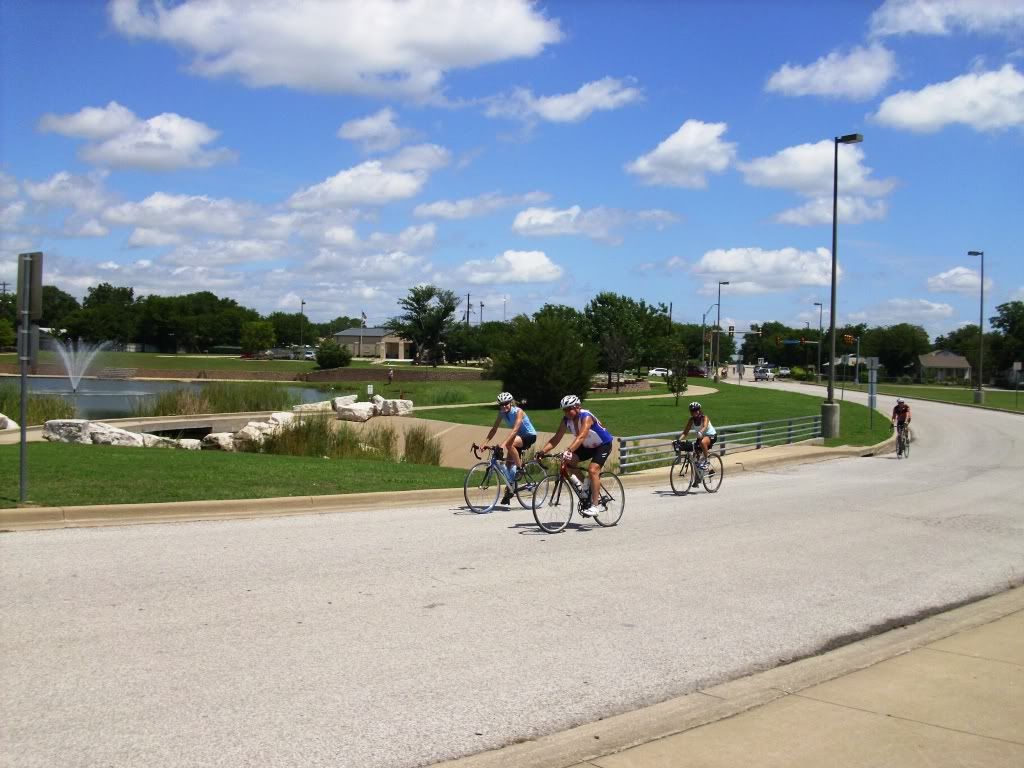 Then we had lunch at a nearby Mexican restaurant.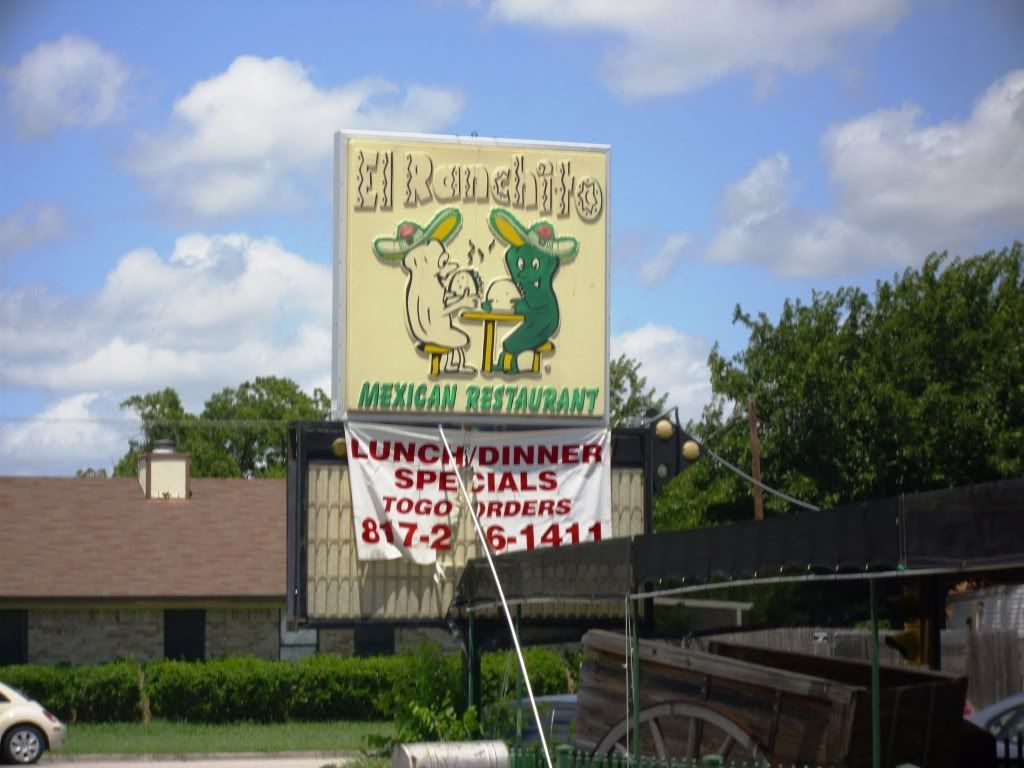 My bike looked lonely at the restaurant (everyone else drove to the group ride).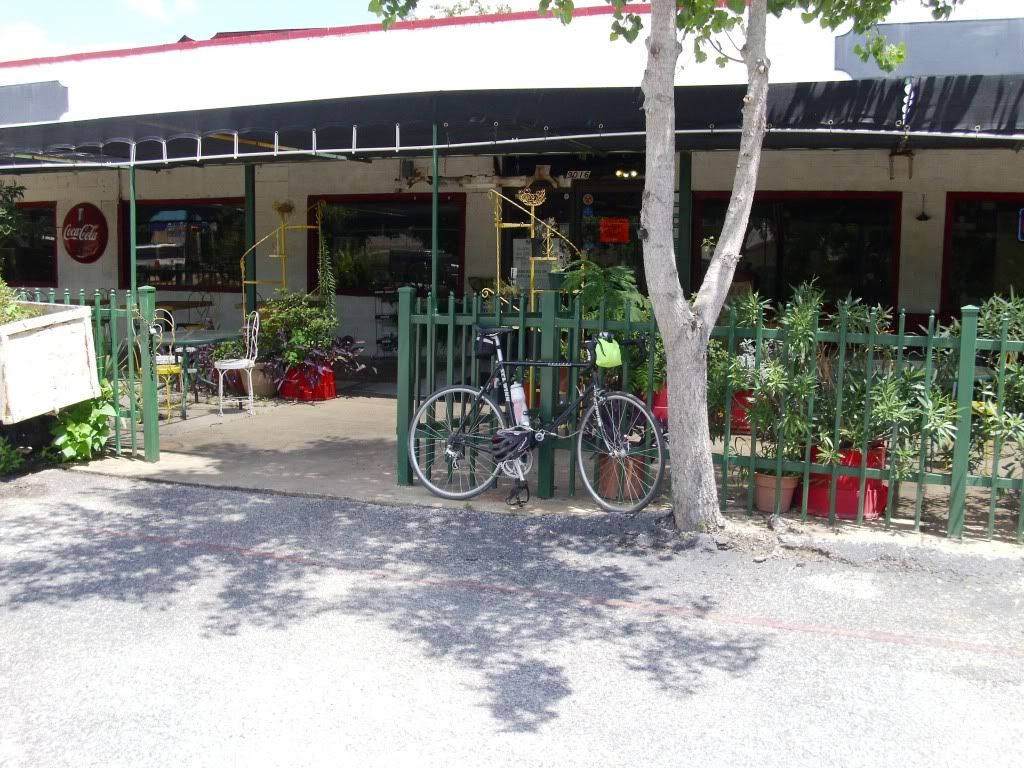 Eventually everyone else showed up.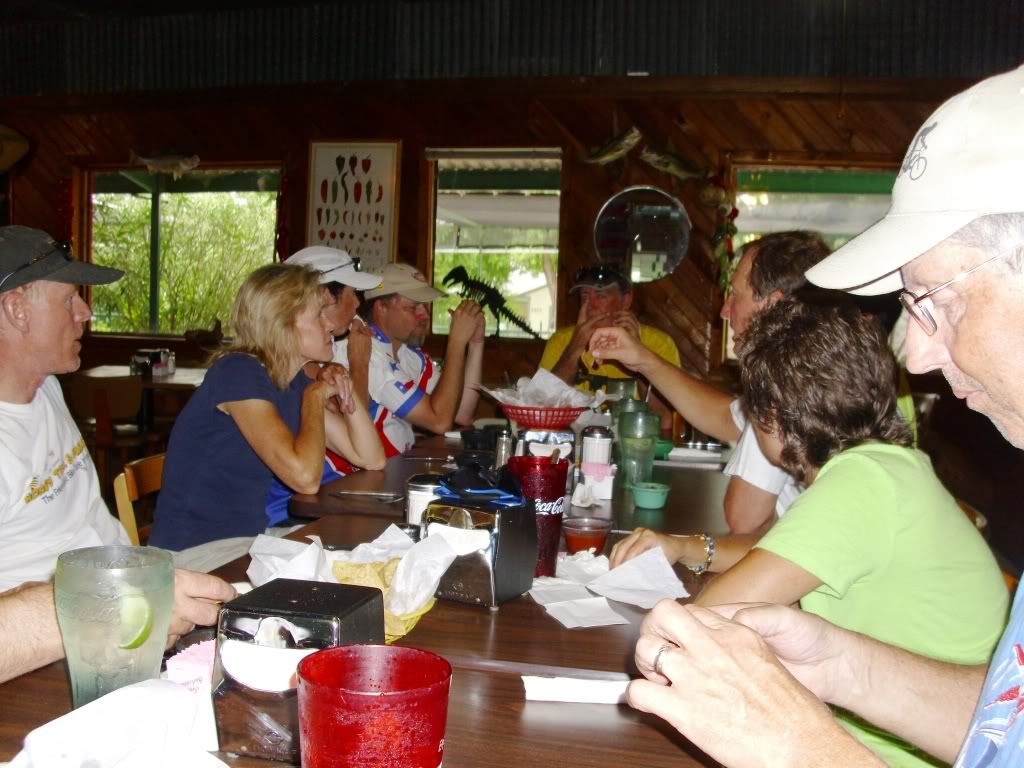 Don't make the same mistake I did: It's a bad idea to accept a glass of water from a waitress when you're trying to take pictures.
The Home Stretch: 15 miles
The rest of the ride was routine; the restaurant wasn't too far from where I work, so it was just like my normal commute (Ah! This post
does
have something to do with commuting!) Except for a stop I made along the way. I ran into a member of the bike club that hadn't done the ride with us. He was on a solo ride and had gotten a flat tire. I decided to hang out until he got his new tube in. It's a good thing because his spare tube didn't hold air either. I gave him my spare and we rode together until we got to his subdivision (which was right on my way)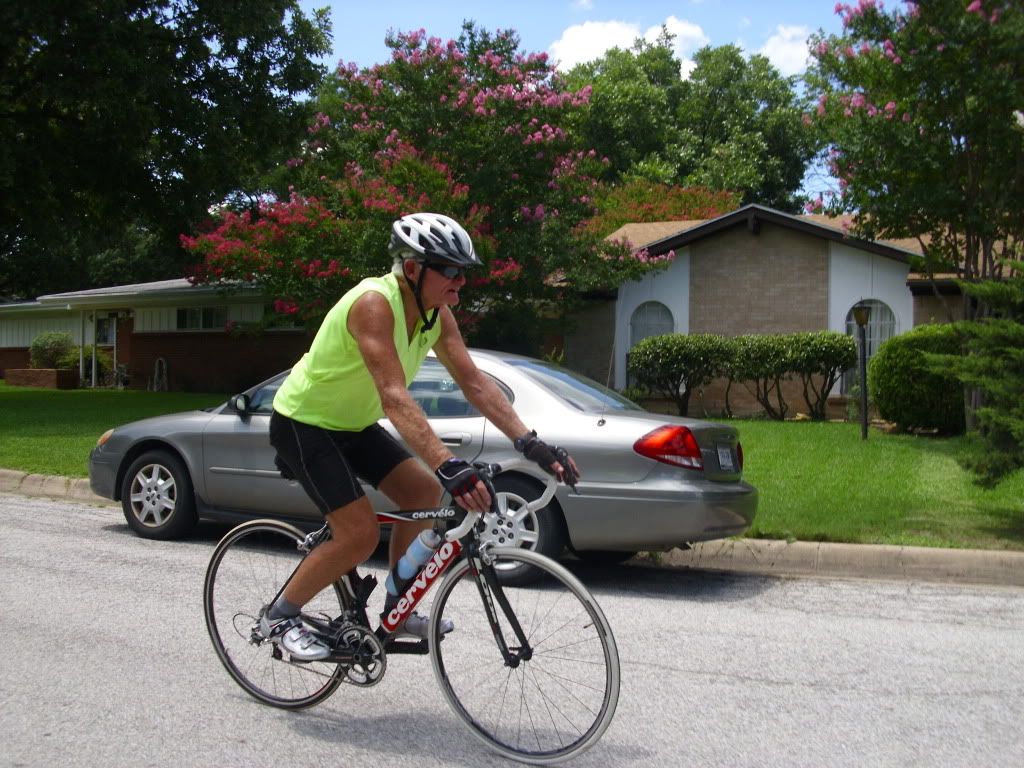 ...and I rode the rest of my "commute" uneventfully.
Total distance: 71 miles or 114 kilometers. A metric century!