So... the last few posts have been about our trip to
Scarborough Renaissance Festival
. I mentioned that it's interesting looking at the different period costumes people wear. Mrs. Doohickie has always admired period dress, and we decided it's time to splurge. So just like Cinderella, she got ready for the ball. First, we went to a dress shop where she picked out a pretty blue form-fitting gown. Here she is trying it on:
I decided to try an artsy picture in the mirror, but one of the girls in the store noticed what I was up to:
So I asked
Mirror, mirror, on the wall,
Who's of the fairest one of all?
She's obviously quite fit for sales, because this was her answer:
So now she had her pretty period dress. But the white sneakers she wore just didn't go with it. So we went to the moccasin shop where one of the clerks helped her try some on:
Oops! They don't call this place Boobfest for nothing! Anyway, where was I? One of the clerks yadda yadda yadda...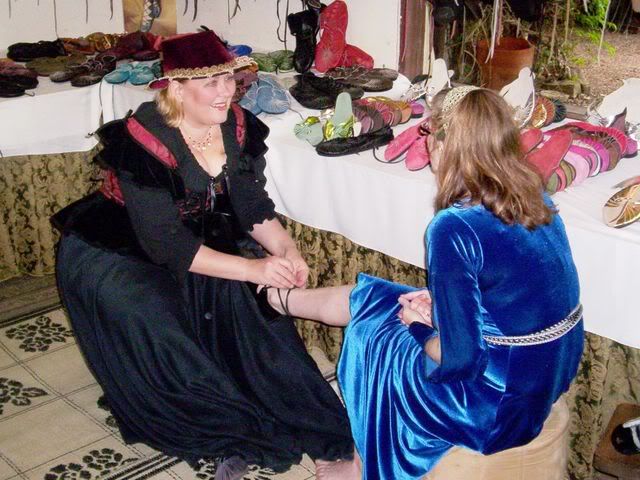 But now her escort was dressed entirely inappropriately. So I had to get some period clothes too. Here's a picture of the two of us after I got a new smock, some new britches and some new shoes.
So I guess that means the two of us are getting sucked into the asylum.