So I took part in my first Critical Mass ride on Friday. I wasn't sure if I would; there was a pretty good chance of thunderstorms in the afternoon. But there's a facebook page promoting Car Free Fridays in Fort Worth, so I decided to ride the bike to work and see how things worked out.
Rather than riding my boring commuter hybrid, I decided to ride my 1973 Schwinn Varsity. It made the trip just fine, but it's a slow bike; it took me about 20 minutes longer than usual to ride to work. On the other hand, I didn't feel as tired as I usually do when I get into the office. I was still worried about the weather... what do old sailors say? "Red sky at morning, sailor take warning." Was this too much red?
The afternoon came. A check of the radar showed thunderstorms to the north but they seemed to be staying there. I rolled the Varsity through the streets on the westside of Fort Worth, taking one of my new favorite rides, up Crestline and eventually to the west end of 7th Street, then a long descent into downtown. The weather seemed to be holding with just a few sprinkles.
Once again the Varsity proved to be slower than than expected and I didn't have much time for dinner. I settled on a hot dog and a banana from 7-11. The dog was surprisingly good.
I rolled into downtown's backyard, aka Burnett Park. I had enough time to take a few glamor shots of the Varsity.
This is what a working bike looks like, boys & girls.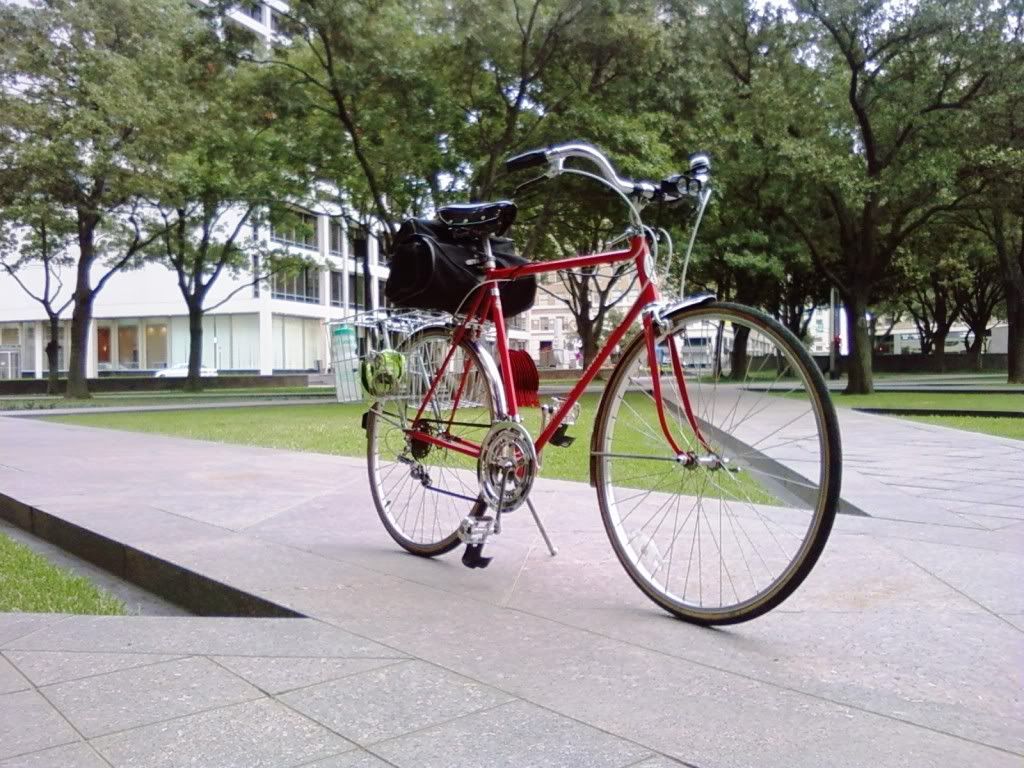 The other cyclists were gathering in the park.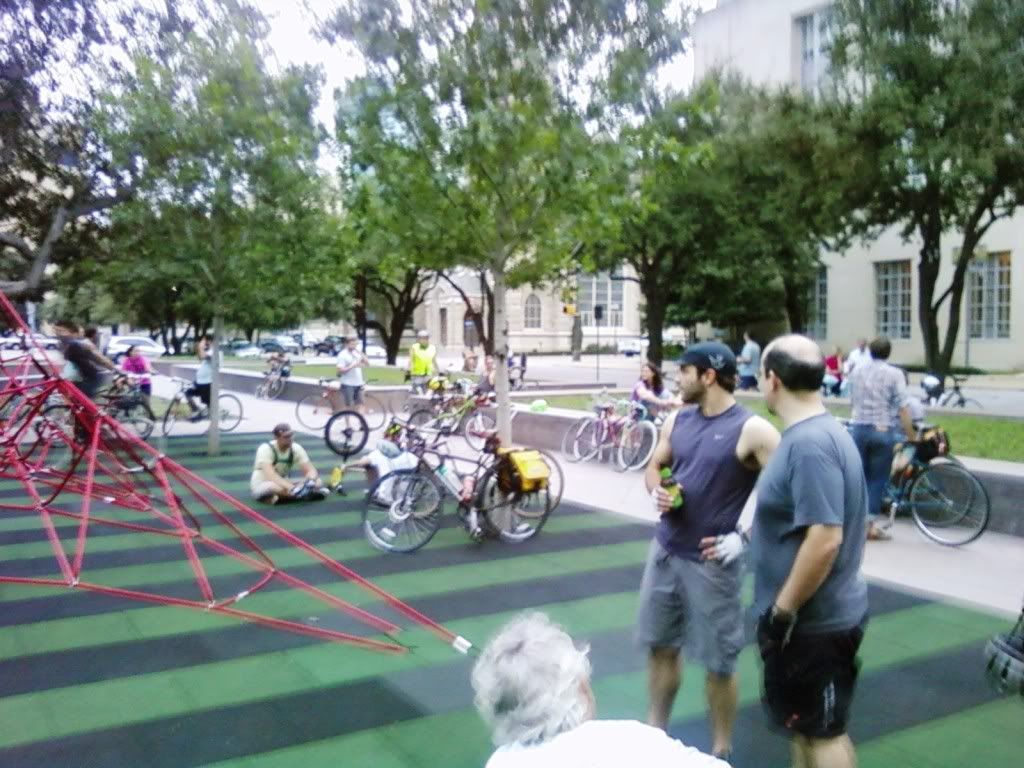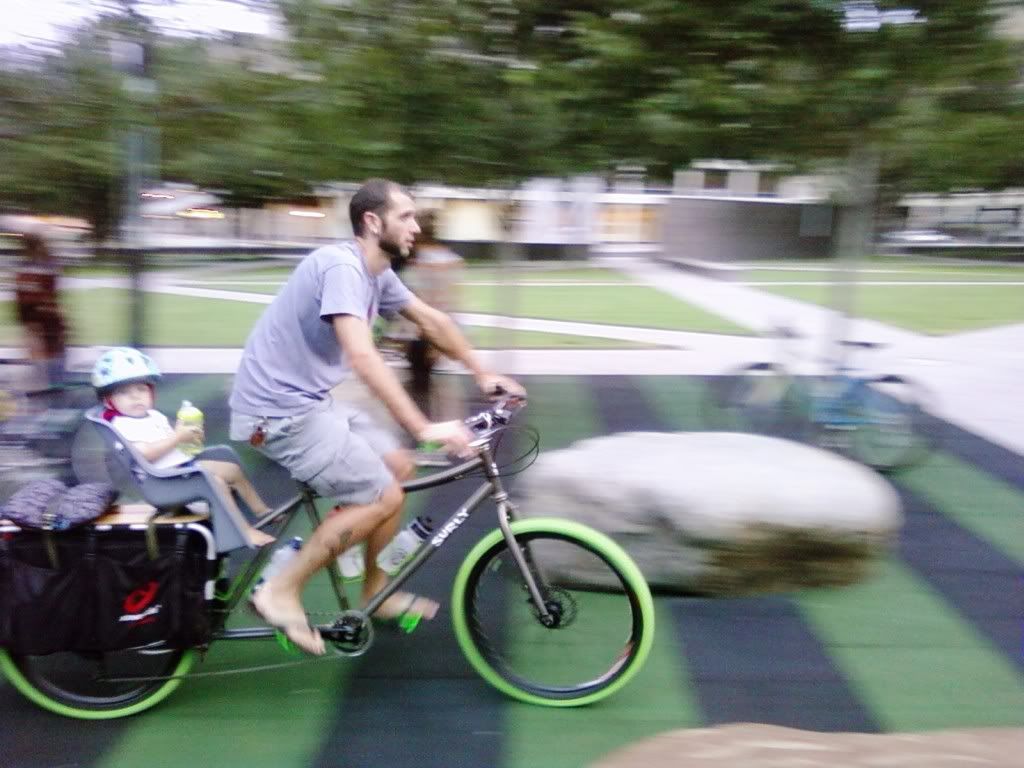 One thing that struck me was the family friendly nature of the event. Lots of people with their kids either in baby seats, on trail-a-bikes, or on their own bikes. From what I've heard about Critical Mass rides in bigger cities, the rides are sometimes confrontational. I'd heard this was not the case in Fort Worth and it seemed to be true based on the gathering crowd.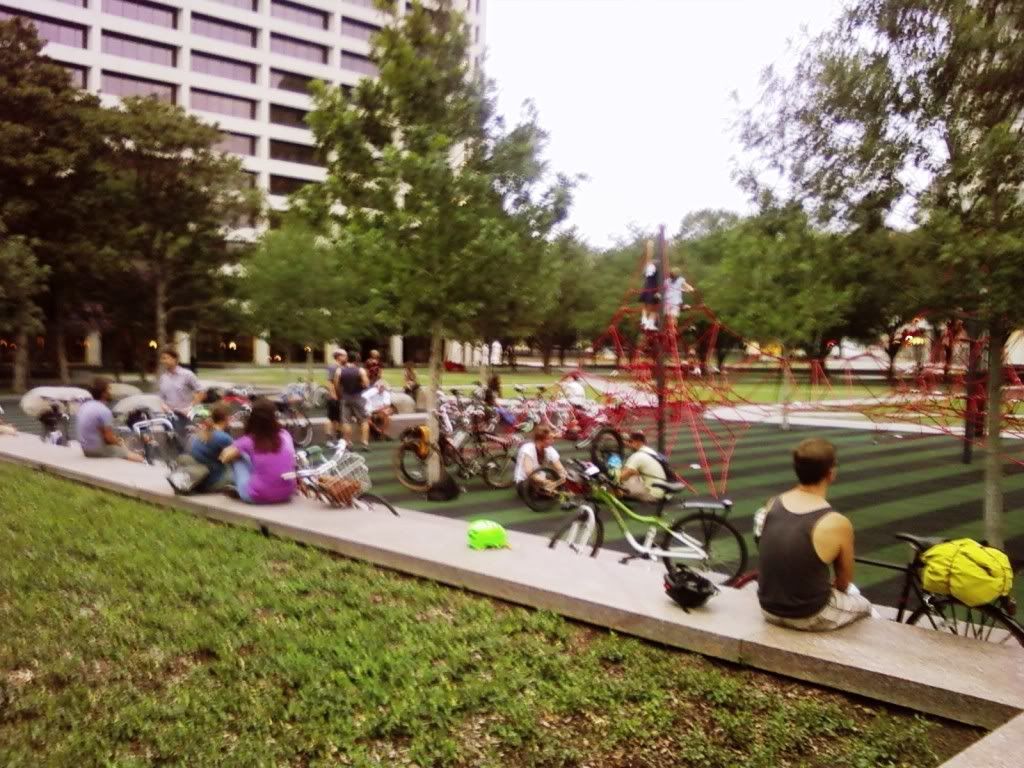 Finally, time to roll. I think there were probably about 60-70 riders. Someone said they've had crowds on past rides of over 100 but that the chance of bad weather probably scared a few off.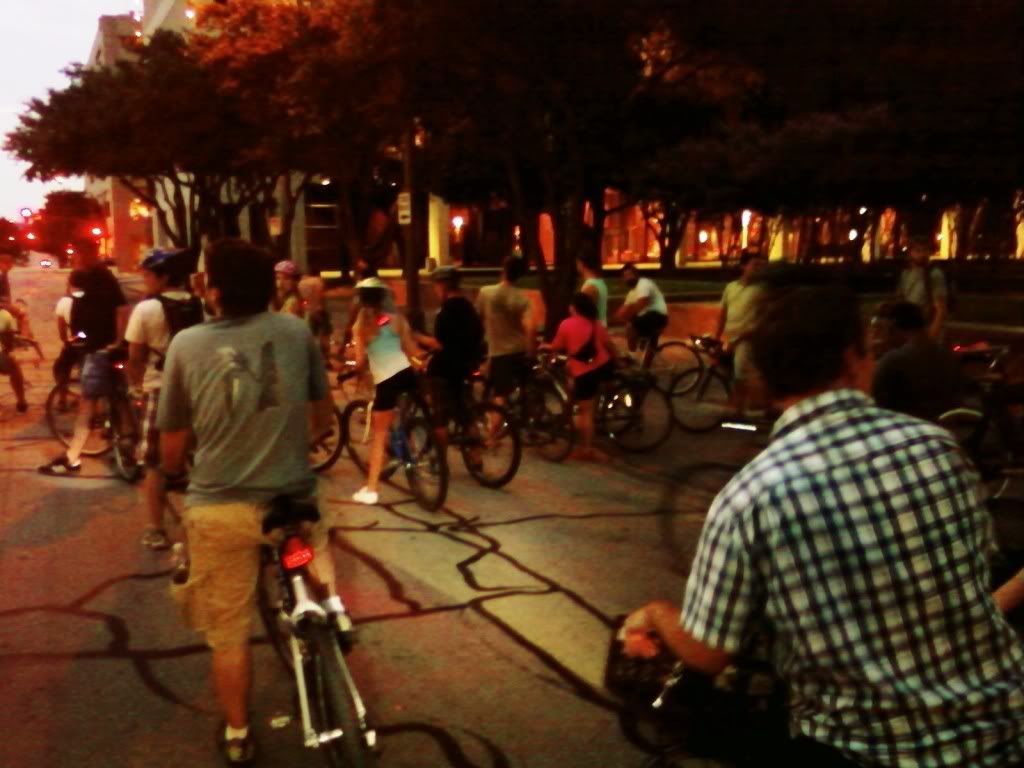 One thing I like about Fort Worth bike culture is that it is "come as you are." You'll see people on high-end road bikes in spandex, hipsters in polyester on their fixies, cruiser-bike riders in cotton, and everything in between. At least on these social rides, there is very little class consciousness. Everyone just gets along.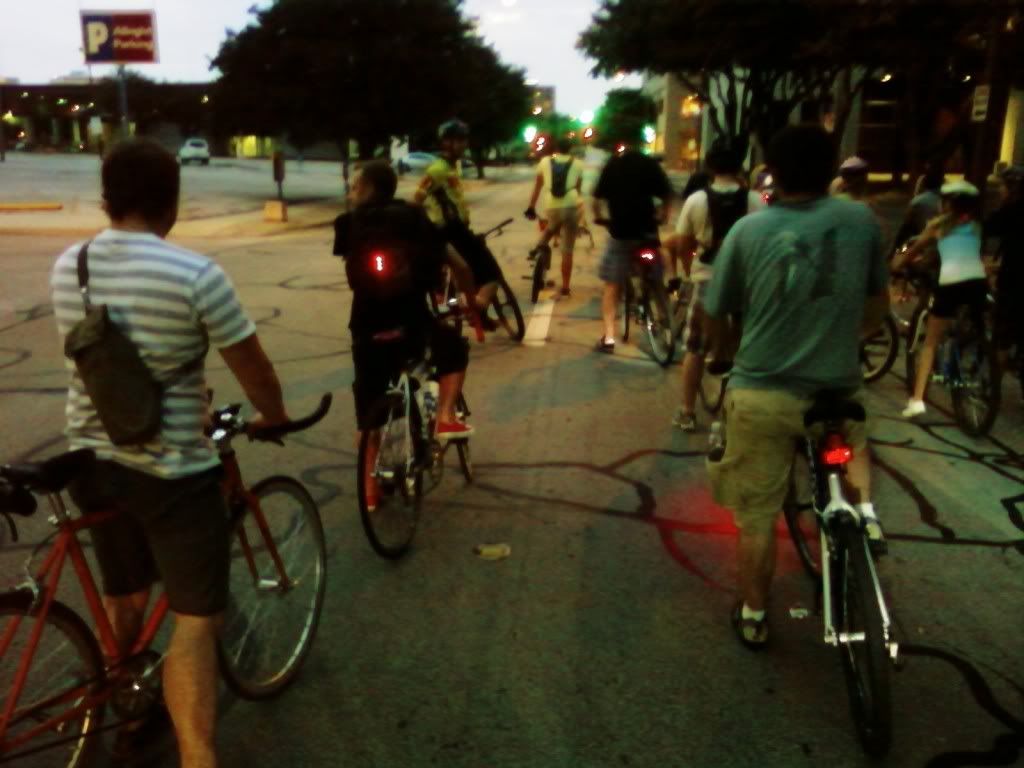 The way the ride worked is this: If the group approached an intersection and the light was red, we waited at the light until it turned green. Once green, the whole group proceeded through. If it turned red for us as we were moving through, certain riders stopped in front to hold the cross traffic off until the rest of the group went through. This angers drivers in some cities, but the "corkers" in our group tried their best to be friendly, and the group members waved and smiled as we rode through. No honking of horns; everyone was either smiling or neutral.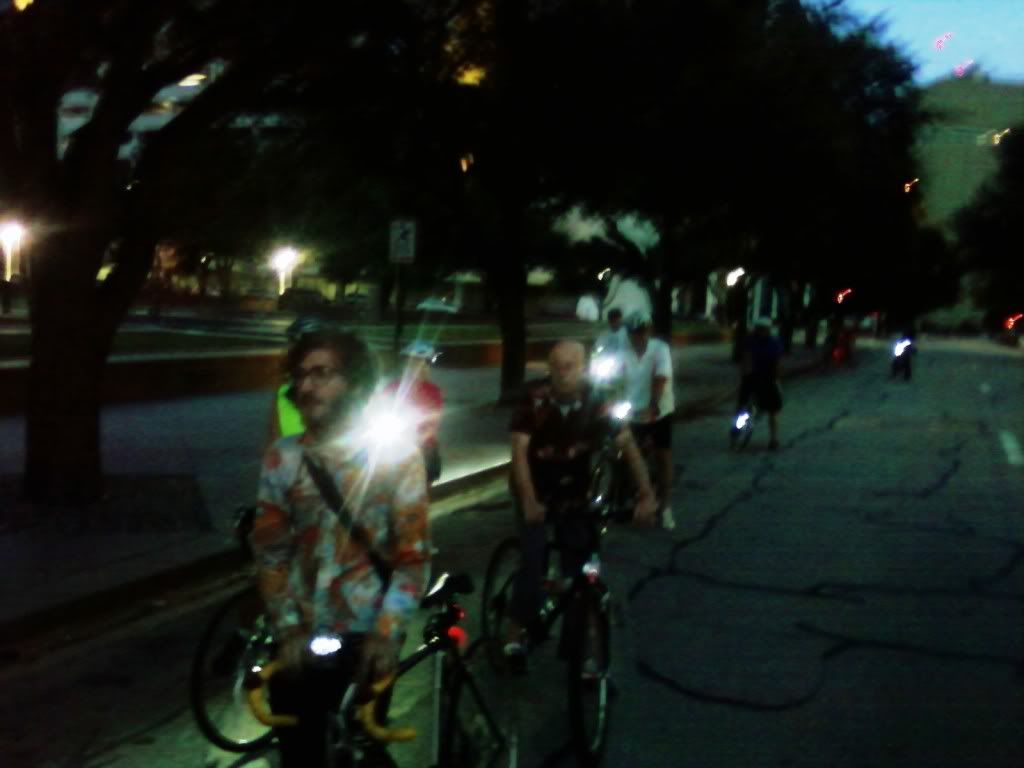 We rode north through downtown. There was a party atmosphere helped along by the sound system that one of the riders pulled along on a bike trailer. Great selection of music in that there was something for everyone.
Apparently a longer ride was planned but concerns about the weather limited the ride to a simple seven-mile loop from downtown up Main Street to the Stockyards area and back again.
In the pic below we were crossing over the Trinity River, leaving downtown.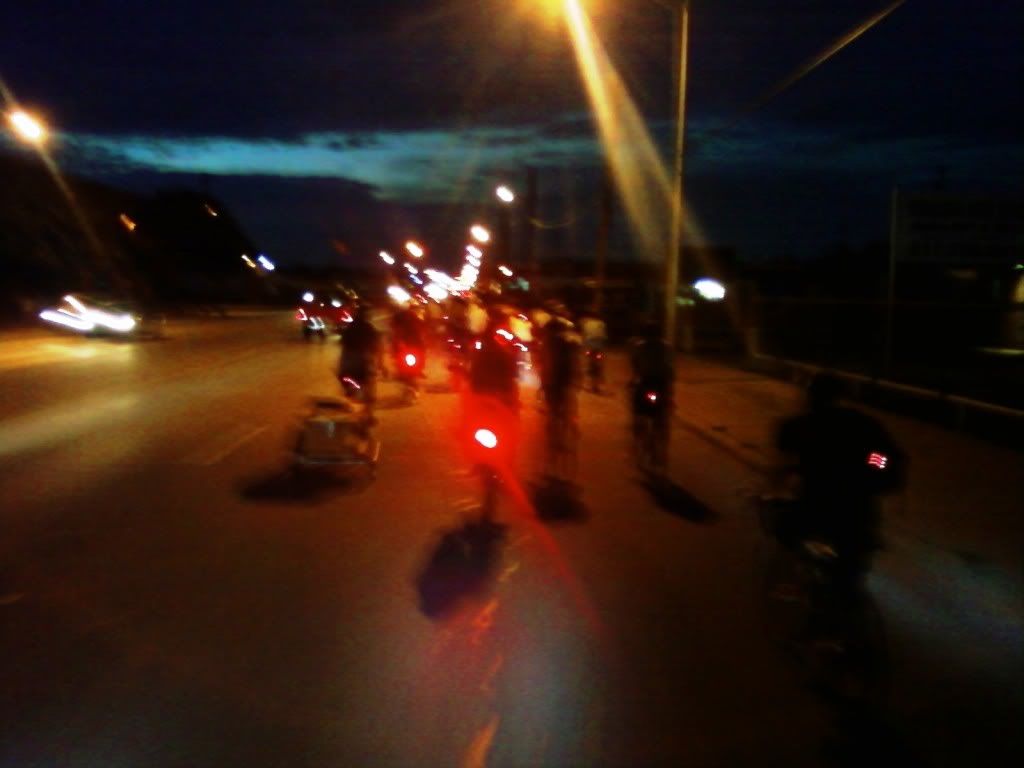 At this point my feeble phone camera wasn't working in the darkness so there are no pictures of the Stockyards. We cruised down Exchange Street, the heart of the Stockyards, then came back on Samuels Avenue. I tried a picture on the way back toward downtown as we rode along Samuels Avenue, on the bridge that took us back over the Trinity.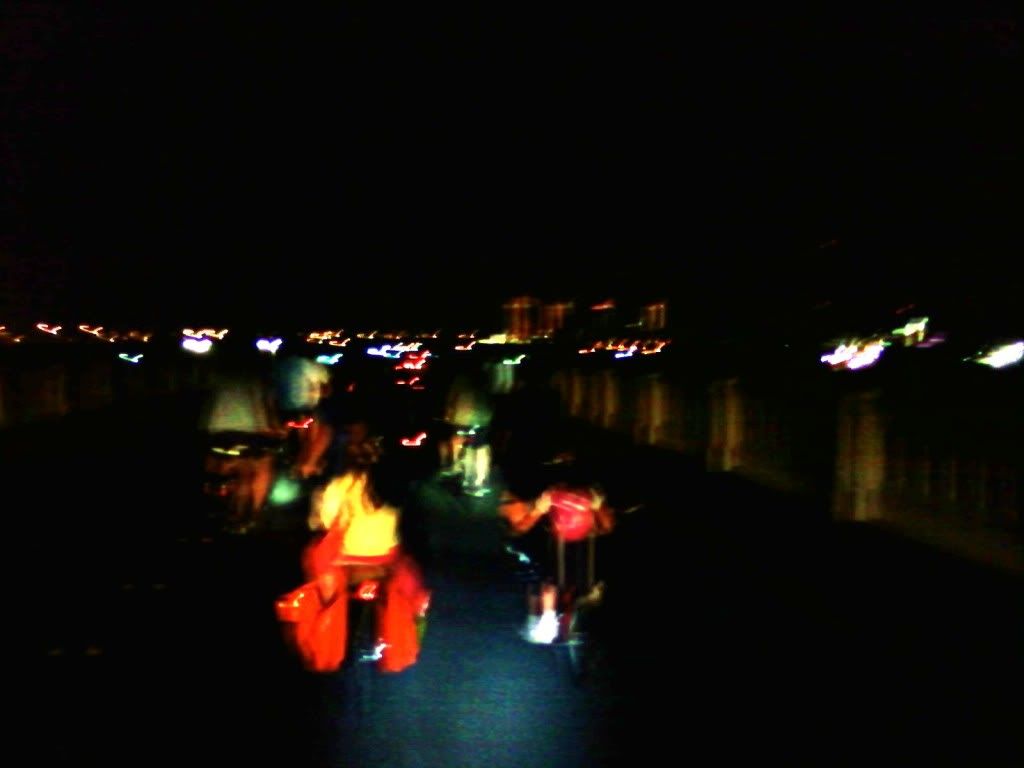 Not too good, I know. As we rode through the Stockyards and downtown, we smiled, waved and rang our bells as we passed by people on the streets. People called out, asking why we were riding, and the answer most often was, "Just for fun!"
And this is true. One of the other riders commented that he recently moved from Austin, which is considered very bike friendly. He said that yeah, there are more facilities for bikes, but you'd never see such a large group out riding "just for fun." To me, this is one of the most awesome things about the blossoming bike culture in Fort Worth. We ride for many reasons, but the one reason we share is that cycling is fun, and we don't lose sight of that.
I started home from downtown along 7th Street, riding part of the way with one of the other cyclists. As we approached the bridge over the river, we noticed a cyclist changing a flat tire. We offered to help, even if it was just for moral support, but it turned out it was a good thing we stopped because it turned into a teaching opportunity about how to get those tight road tires onto a rim and how to fill a tire with one of those CO2 cartridges. Until you use one, they are mystery.
Anyway, we got on the Trinity Trail and we had an opportunity to put the hammer down for a couple miles. Then my riding partner got to where he'd parked his car and got off the trail. I rode by Colonial Country Club and the Westcliff area on my way home. The day was perfect. The weather held and the temperature was just ride for riding. Definitely a blog-worthy day.